Lodging Information
Observers and other visitors can request to stay on Mount Hamilton in the astronomer dorms, which are similar to modest hotel rooms.
All room arrangements, including payment, must be made in advance through the Lick Observatory Business Office at UC Santa Cruz. Check with the business office for current rates.
Please contact:
Camille Martinez
831-459-2772
camille@ucolick.org
---
Checking In
Check-in time is 4:00 p.m.
Your first stop will be the former dining hall to pick up your keys and get your room assignment. Coming from San Jose, the diner will be the first building (yellow with white trim) on your right when you reach the top of the mountain. Enter the keycode at the main entrance below the portico on the right. Inside you will find your keys, site maps, a telephone (mountain access only) and a bathroom. Do not share the keycode with anyone. Please refer any inquiring strangers to a mountain staff member, preferably a support scientist.
---
Room Assignments
After you have your room assignment and keys, find your room to make sure the key works and that you have everything you need (extra blankets, alarm clock). Spare blankets are available in the closet. A desk or table has been provided; please refrain from eating or using a laptop on the additional beds in the room.
Please be advised that lodging charges are per bed, not per room. Using articles from another bed or another room will result in additional fees. Checkout time is 2 p.m.
---
Meals
Please bring and prepare your own food.
We regret we can no longer offer meal service. However, we have a full kitchen for observers' use in the 3-meter, and we have remodeled the 3-meter library to be a pleasant place to eat and meet with your colleagues.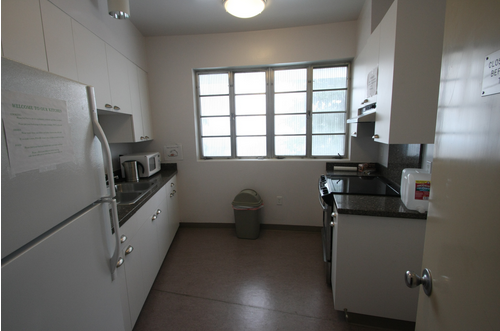 Shane 3-meter Kitchen
A second kitchen and eating facility is available in the southwest corner of the old diner building, with entrance via the westernmost door (to the right of the main entrance, served by a disabled ramp).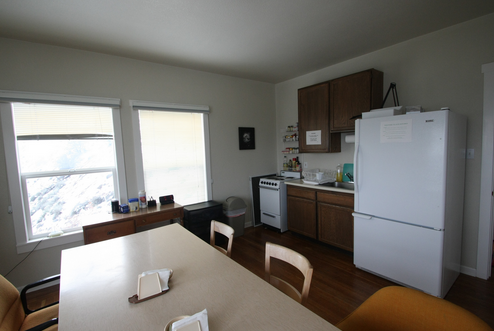 Diner Kitchen
Both kitchens have electric stoves and ovens, microwave ovens, full-sized refrigerators, pots, pans, coffee pots, utensils, dishes, glasses, mugs, and flatware. Should you find anything essential missing or non-functional, please inform a staff member and we'll do what we can to fix the problem as quickly as possible.
Please clean up after yourself. Wash dirty dishes, clean up all spilled food, etc. Upon departure, please make sure all your food is disposed of (either discard it, put it on the labeled common shelves, or take it with you). Thank you for your cooperation!
---
Supermarkets
The listed supermarkets are in San Jose, CA, about a 45 to 50 minute drive from the Observatory. We recommend stopping for groceries before driving up to Lick Observatory.
SaveMart - 3251 S. White Road
SaveMart - 3457 McKee Road
Safeway - 1771 E. Capitol Expressway
Lucky's - 3270 S. White Road
Lucky's - 2980 E. Capitol Expressway
---
Flashlights and Thermoses
Small flashlights are attached to the dorm room key rings, though not all key chains have flashlights. You may want to bring your own flashlight.
Thermoses are available in the primary kitchen locations. It is preferred that you return them to the kitchen from which you borrowed them; otherwise you may leave thermoses in your room.
---
Telephones
To call any campus numbers from a mountain phone, or to make outside calls, dial 9 followed by 1-area code - phone number. To call UC Santa Cruz campus phones, dial 9-1-831-459-xxxx. To get an inside line, dial 8-xxxx.Long distance calls should be charged to a credit card. Dial 9 followed by the usual sequence of digits you'd use for making a credit card call.
See Mt. Hamilton staff directories for current telephone numbers.
In case of an emergency, from a mountain phone:
Dial 9-911. The dispatcher should see your location information. Give 31999 Mt. Hamilton Rd. as the address. Give the building number if you know it. We are on Mt. Hamilton, CA 95140.
In case of an emergency, from a non-mountain phone:
Dial 911. The dipatcher sees the address 31999 Mt. Hamilton Rd, and the building from which the call originated.
As soon as reasonably possible after calling 911, please also contact Lick Observatory Superintendent Kostas Chloros to inform him of the emergency situation. His office phone number is 408-238-9613.
---
Computing Facilities & WiFi
Observers have access to a number of computers on Mount Hamilton, joined by fast wide and local area networks which make connections nearly transparent. Many disk partitions are cross mounted for convenience.
We are connected to the outside world through a T1 link. A secure firewall surrounds all mountain computers. Access from outside the firewall can only be gained through special permission or from an approved Keck/Lick Remote Operations computer. Learn more about getting set up here.
---
Mt. Hamilton Community Water System
The Mt. Hamilton Community Water System routinely monitors for contaminants in the drinking water according to Federal and State laws. The latest report shows the results of monitoring for the period of January 1 – December 31, 2014. Our constant goal is to provide you with a safe and dependable supply of drinking water.
See the 2014 water quality report.
---
Checking Out
Before leaving Lick Observatory, check your room and the telescope where you've been working to make sure you are not leaving any personal items behind. You may return keys and thermoses to the diner.
If you leave the mountain before the scheduled end of your run, be sure to notify a member of the technical staff as well as e-mailing cancel@ucolick.org.
---
Directions
Allow about one hour from San Jose, and please drive carefully as the road is scenic, but winding.
Lick Observatory is located on the summit of Mt. Hamilton in the Diablo Range east of San Jose. To get there from Interstates 101, 280, 680, take Alum Rock Avenue exit from Interstate 680 North. Turn right onto Alum Rock Avenue. Take another right on Mt. Hamilton Road (CA Route 130).
From the east, take Interstate 580 west to Interstate 680 south. Then follow the directions above. Alternatively, you may take take California Route 130 to Mt. Hamilton from the east, but please allow about 1-3/4 hours from Interstate 5 to reach the Observatory. The road is long and winding, but well-maintained. Take the Patterson exit off Interstate 5, and go west on Puerto del Canyon Road (away from Patterson.) At the Junction Cafe, turn left to stay on California Route 130.
Be cautious on Mt. Hamilton Road. The drive is scenic, but the road is narrow in some areas and also has many sharp curves. There are no automative services neraby. Please plan ahead - there are no gas stations for 20 miles.
---
Facility Map