June 11, 2016
8:30 p.m.
Performer: White Album Ensemble
Astronomy Speaker: Dr. Natalie Batalha, NASA Ames
---
Concert Information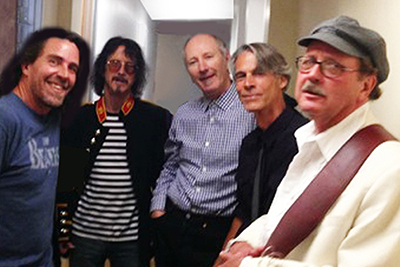 The White Album Ensemble is a 5-100 piece ensemble that covers Beatles music, but Beatles music that was never performed live. The Beatles stopped touring in 1966, and began a recording career that yielded the "classics of our time" from "Rubber Soul," to "Sgt Peppers," to "Abbey Road."
Excited at the possibilities of performing at the observarory for the second year in a row, the group will opt for a minimal, 5 piece, "unplugged" sound, focusing on the vocal harmonies and beauty of songs like "Across the Universe," and "Fixing a hole," and "Because." The band plans to use keyboards and guitars, but no bass or drums so the sound can be contained.
Performers this year will include Richard Bryant (vocals), Omar Spence (vocals), Ken Kraft (vocals and guitar), Stephen Krilanovich (guitar and vocals), and Dale Ockerman (keyboards and assorted instruments). Visit the White Album Ensemble website for more information.
---
Lecture Information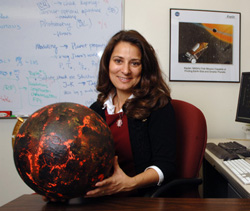 Dr. Natalie Batalha is an astrophysicist at NASA Ames Research Center and the Mission Scientist for NASA's Kepler Mission. She holds a Bachelor's degree in physics from the University of California (UC), Berkeley, and a Doctoral degree in astrophysics from UC Santa Cruz.
Dr. Batalha started her career as a stellar spectroscopist studying young, sun-like stars. After a post-doctoral fellowship in Rio de Janeiro, Brazil, she returned to California. Inspired by the growing number of exoplanet discoveries, she joined the team led by William Borucki at NASA's Ames Research Center working on transit photometry -- an emerging technology for finding exoplanets. Dr. Batalha has been involved with the Kepler Mission since the proposal stage and has contributed to many different aspects of the science, from studying the stars themselves to detecting and understanding the planets they harbor. She led the analysis that yielded the discovery in 2011 of Kepler-10b — the mission's first confirmation of a rocky planet outside our solar system.
Today, she leads the effort to understand planet populations in the galaxy based on Kepler discoveries. She served ten years as professor of physics and astronomy in the classrooms of San Jose State University before joining the Astrophysics Branch of the Space Sciences Division of NASA Ames Research Center. In 2011, Dr. Batalha was awarded a NASA Public Service Medal for her vision in communicating Kepler science to the public and for outstanding leadership in coordinating the Kepler Science Team. In 2015, she joined the leadership team of a new NASA initiative dedicated to the search for evidence of life beyond the Solar System. NASA's Nexus for Exoplanet System Science (NExSS) brings teams from multiple disciplines together to understand the diversity of worlds. Kepler has demonstrated that earth-size planets abound in the galaxy. NExSS will lead NASA's efforts to understand which are most likely to harbor life.
---
Ticket Information
Tickets for this event are now sold out.
Next Year, Get Tickets Early
If you'd like to purchase tickets as early as April 2017, join our Friends of Lick Observatory (FoLO) program. As a thank you for supporting the observatory, you'll get special access to purchase tickets before the general public. To be notified when tickets go on sale to the general public, join our mailing list.
---
Ticket Packages
General Admission: $45
Youth (under 16): $40
Senior (over 65): $40

Ticket includes concert seating, astronomy lecture, view through the Great Refractor telescope, view through the Nickel Telescope and souvenir wine glass or mug.
Preferred Guest: $90
Ticket includes preferred concert seating, astronomy lecture, preferred viewing through the Great Refractor telescope, preferred viewing through the Nickel Telescope, souvenir wine glass or mug, 20% discount at the gift shop.
VIP: $200
Ticket includes private group tour of the Shane Telescope before the concert, catered buffet dinner with wine in our historic Dining Hall, front center concert seating, astronomy lecture, priority viewing through the 36-inch Great Refractor, priority viewing through the 40-inch Nickel Telescope, souvenir wine glass or mug and 20% Discount at our gift shop.
---
More Ticket Information
Due to the historic construction of the telescope domes and safety concerns, the 36-inch Great Refractor Telescope and the 40-inch Nickel Telescope are not wheelchair accessible at this time. Those who have difficulty navigating stairs may also find the telescopes inaccessible. Funds are being raised through the Friends of Lick Observatory to repair the elevating floor of the Lick 36-inch telescope to re-enable handicap access.
Tickets are non-refundable. Please be advised that unpredictable weather patterns may restrict telecope viewings, though lectures, concerts and other activities will still take place.
Due to safety regulations, children must be at least 8 years of age for admission and accompanied by an adult. Due to late program hours, the program may be difficult for children under 12.
---
Program Information
| | | |
| --- | --- | --- |
| 7:30 p.m. | Doors Open | Brief Telescope Visits |
| 8:30 p.m. | Concert, Main Hall | |
| 9:30 p.m. | Science Talk, Lecture Hall | Telescope Viewings |
| 10:30 p.m. | Science Talk (repeated), Lecture Hall | Telescope Viewings |
| 1:00 a.m. | Doors Close | |
Driving to Lick Observatory
Please allow a one-hour drive from San Jose. The rood is good, but windy. The event typically lasts between 4 and 6 hours; prepare to drive home late in the evening. There are no automative services or gas stations for 20 miles, so please plan ahead. See more information on driving directions and parking here.
Recommended Attire
Casual, comfortable clothing and walking shoes. A sweater or light coat is recommended.
Safety
Please be careful when walking around in the dark outside; bringing a flashlight is recommended. Children under age 8 are not allowed at this event, and it may be unsuitable for children under the age of 12 due to late hours.
Telescopes
The large telescopes will be available for viewing as soon as the sky is dark. Telescopes will remain open until every guest has had an opportunity to see through both the 36-inch Great Refractor and the 40-inch Nickel Telescope.
In order to view through the telescopes, guests will receive a numbered pass at the door. Guests with the lowest telescope numbers are admitted to the telescopes first - so we recommend getting to the observatory early! Please note: Due to historic construction of the telescope domes, the 36-inch Refractor and the 40-inch Nickel Telescope are not wheelchair accessible at this time.
Volunteer amateur astronomers also set up ground telescopes in the back parking so guests can view additional cosmic objects.
Gift Shop
Lick Observatory souvenirs and astronomy merchandise will be available for purchase between 7:30 to 11:00 p.m.
Refreshments
Snacks and beverages will be available near the Nickel Telescope. Vending machines and fountain water are also available.
Assistance
We strive to make your visit as complete and meaningful as possible. Please let us know if you will need special assistance (for example, if you will have difficulty climbing stairs), so we can make the necessary arrangements.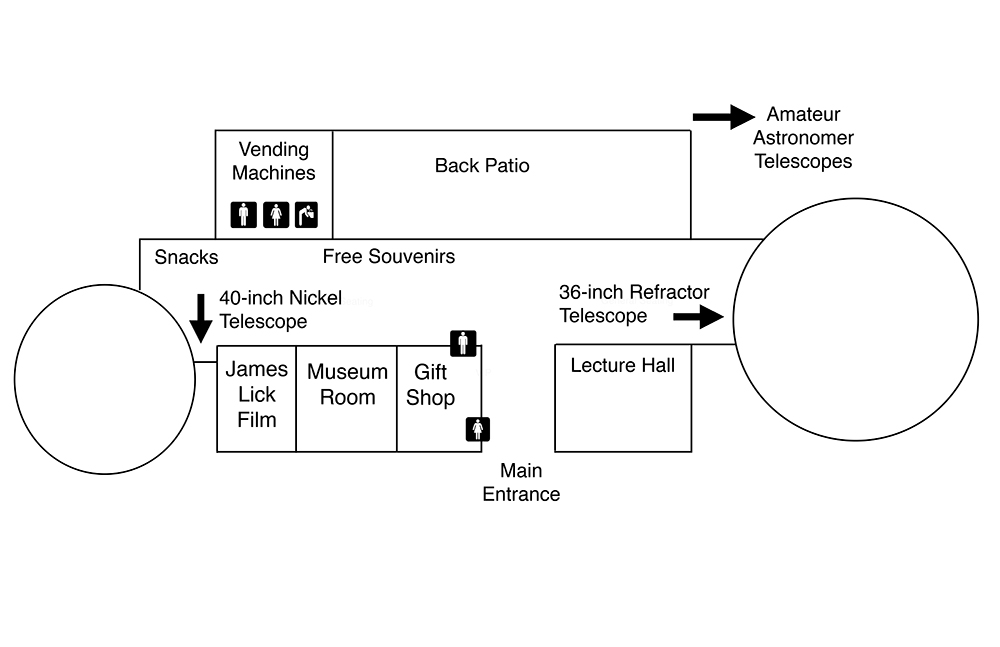 ---
Share Your Experience
If you attend an event make sure to tag us on Facebook, Instagram, Twitter!
Leave a review on Yelp here.