July 6, 2018
8:30 p.m.
---
Prof. Sandra M. Faber, UC Santa Cruz
"The Art and Science of Astro-Imaging: Bringing the Universe Dramatically Closer"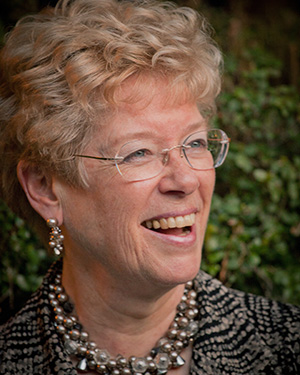 Prof. Sandra M. Faber
Sandra Faber is a University Professor at the University of California, Santa Cruz, and a staff member of UCO/Lick Observatory. She is an observational astronomer with research interests in cosmology and galaxy formation. Some of her major discoveries include the first structural scaling law for galaxies (called the Faber-Jackson relation), large-scale flow perturbations in the expansion of the Universe caused by superclusters of galaxies, and black holes at the centers of galaxies. In 1984, she and three colleagues presented the first detailed treatment of galaxy formation based on "cold dark matter," which has since become the standard paradigm for galaxy and cluster formation in the Universe. Faber was one of three astronomers who diagnosed the optical flaw in the Hubble Space Telescope, and she played a major role in its repair. She established the scientific case for the twin Keck 10 m telescopes, which inspired a subsequent wave of giant optical telescope building all over the world. From 1994-2005 she was Principal Investigator of the DEIMOS spectrograph, a large optical multi-object spectrograph for the Keck II telescope that is the most powerful instrument of its kind in the world. She and colleagues used DEIMOS to conduct the DEEP redshift survey of the distant Universe, which collected spectra of 50,000 distant galaxies and exploited the immense power of Keck to see and study galaxy formation 10 billion years back in time. She now co-leads the CANDELS project, the largest project in the history of the Hubble Space Telescope, to extend our view of galaxy formation back nearly to the Big Bang. She has co-authored over 300 scientific papers, and her work has been cited over 46,000 times. Faber received her BA degree in Physics from Swarthmore College and her PhD in Astronomy from Harvard. She is a member of the U.S. National Academy of Sciences, the American Academy of Arts and Sciences, and the American Philosophical Society and is a Fellow of the Royal Astronomical Society. Among her many awards, she received the National Medal of Science from President Obama in February 2013. Faber will draw on her experience in astronomical optics and telescopes to illustrate the art and science of astronomical imaging, how it is yielding ever sharper images, and drawing the cosmos ever closer. Her talk will feature beautiful images and videos from Hubble, from the Keck telescopes, and expected fabulous images from the Thirty-Meter Telescope, a project of the University of California, Caltech, and four other countries.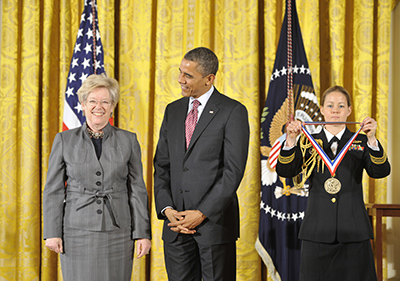 National Medal of Science Ceremony at the White House on February 1, 2013. [United States Government Work]
---
Program Information
| | | |
| --- | --- | --- |
| 7:30 p.m. | Doors Open | Brief Telescope Visits |
| 8:30 p.m. | Science Talk, Lecture Hall | History Talk, Lecture Hall |
| 9:30 p.m. | Science Talk (repeated), Lecture Hall | Telescope Viewings |
| 10:30 p.m. | History Talk (repeated), Great Refractor | Telescope Viewings |
| 1:00 a.m. | Doors Close | |
Ticket Information
General admission: $ 25.00 per person (ages 8 and older).
Tickets are non-refundable. Limit of four tickets per customer. Please be advised that unpredictable weather patterns may restrict telescope viewings, though lectures and other activities will still take place. Due to safety regulations and the nature of the event, children under age 8 are not allowed at this event, and it may be unsuitable for children under the age of 12 due to late hours.

Join Friends of Lick Observatory (FoLO) and Get Tickets Early
If you'd like to purchase tickets as early as noon on April 11th, 2018, join our Friends of Lick Observatory (FoLO) program by April 1st, 2018. As a thank you for supporting the observatory, you'll get special access to purchase tickets before they go on sale for the general public on April 18th at noon at www.ucsctickets.com
Driving to Lick Observatory
Please allow a one-hour drive from San Jose. The rood is good, but windy. The event typically lasts between 4 and 6 hours; prepare to drive home late in the evening. There are no automative services or gas stations for 20 miles, so please plan ahead. See more information on driving directions and parking here.

Recommended Attire
Casual, comfortable clothing and walking shoes. A sweater or light coat is recommended.
Safety
Please be careful when walking around in the dark outside; bringing a flashlight is recommended. Children under age 8 are not allowed at this event, and it may be unsuitable for children under the age of 12 due to late hours.
Telescopes
The large telescopes will be available for viewing as soon as the sky is dark. Telescopes will remain open until every guest has had an opportunity to see through both the 36-inch Great Refractor and the 40-inch Nickel Telescope.
In order to view through the telescopes, guests will receive a numbered pass at the door. Guests with the lowest telescope numbers are admitted to the telescopes first - so we recommend getting to the observatory early! Please note: Due to historic construction of the telescope domes, the 36-inch Refractor and the 40-inch Nickel Telescope are not wheelchair accessible at this time.
Volunteer amateur astronomers also set up ground telescopes in the back parking so guests can view additional cosmic objects.
Gift Shop
Lick Observatory souvenirs and astronomy merchandise will be available for purchase between 7:30 to 11:00 p.m. You can also visit our Gift Shop online 24/7.
Refreshments
Snacks and beverages will be available near the Nickel Telescope. Vending machines and fountain water are also available.
Assistance
We strive to make your visit as complete and meaningful as possible. Please let us know if you will need special assistance (for example, if you will have difficulty climbing stairs), so we can make the necessary arrangements.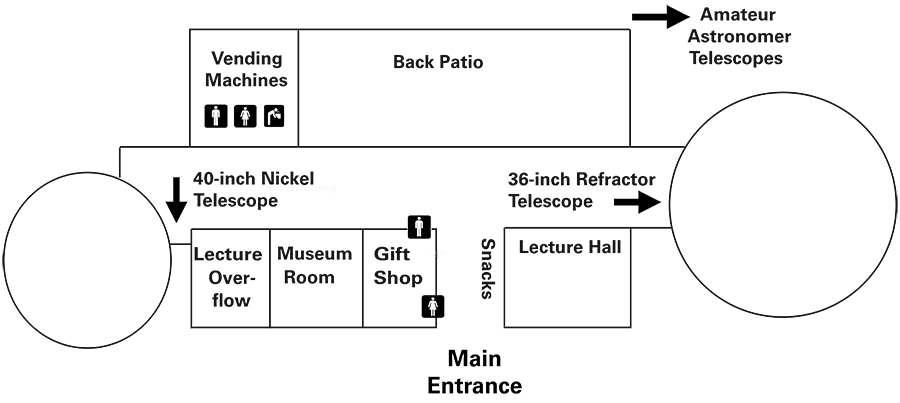 ---
Share Your Experience
If you attend an event make sure to tag us on Facebook, Instagram, Twitter!
Leave a review on Yelp here.