Lick Observatory presents:
Dr. Raja GuhaThakurta, UCSC
"We Are Stardust"
June 12, 2015
8:30 p.m.
---
Dr. GuhaThakurta is a faculty member at UC Santa Cruz and researcher at UCO/Lick Observatory.
His research focuses on observational studies of galaxy formation and evolution with a particular interest in the Andromeda galaxy, Milky Way galaxy, and dwarf galaxies. He leads the SPLASH (Spectroscopic and Photometric Landscape of Andromeda's Stellar Halo) and HALO7D (Halo Assembly in LambdaCDM: Observations in 7-Dimensions) projects.
---
Ticket Information
General Admission: $20
Tickets for this event are now sold out.
Next Year, Get Tickets Early
If you'd like to purchase tickets as early as April 2016, join our Friends of Lick Observatory (FoLO) program. As a thank you for supporting the observatory, you'll get special access to purchase tickets before the general public. To be notified when tickets go on sale to the general public, join our mailing list.
---
Program Information
| | | |
| --- | --- | --- |
| 7:30 p.m. | Doors Open | Brief Telescope Visits |
| 8:30 p.m. | Science Talk, Lecture Hall | History Talk, Great Refractor |
| 9:30 p.m. | Science Talk (repeated), Lecture Hall | Telescope Viewings |
| 10:30 p.m. | History Talk (repeated), Great Refractor | Telescope Viewings |
| 1:00 a.m. | Doors Close | |
Driving to Lick Observatory
Please allow a one-hour drive from San Jose. The rood is good, but windy. The event typically lasts between 4 and 6 hours; prepare to drive home late in the evening. There are no automative services or gas stations for 20 miles, so please plan ahead. See more information on driving directions and parking here.
Recommended Attire
Casual, comfortable clothing and walking shoes. A sweater or light coat is recommended.
Safety
Please be careful when walking around in the dark outside; bringing a flashlight is recommended. Children under age 8 are not allowed at this event, and it may be unsuitable for children under the age of 12 due to late hours.
Telescopes
The large telescopes will be available for viewing as soon as the sky is dark. Telescopes will remain open until every guest has had an opportunity to see through both the 36-inch Great Refractor and the 40-inch Nickel Telescope.
In order to view through the telescopes, guests will receive a numbered pass at the door. Guests with the lowest telescope numbers are admitted to the telescopes first - so we recommend getting to the observatory early! Please note: Due to historic construction of the telescope domes, the 36-inch Refractor and the 40-inch Nickel Telescope are not wheelchair accessible at this time.
Volunteer amateur astronomers also set up ground telescopes in the back parking so guests can view additional cosmic objects.
Gift Shop
Lick Observatory souvenirs and astronomy merchandise will be available for purchase between 7:30 to 11:00 p.m.
Refreshments
Snacks and beverages will be available in the main hall all evening. Vending machines and fountain water are also available.
Assistance
We strive to make your visit as complete and meaningful as possible. Please let us know if you will need special assistance (for example, if you will have difficulty climbing stairs), so we can make the necessary arrangements.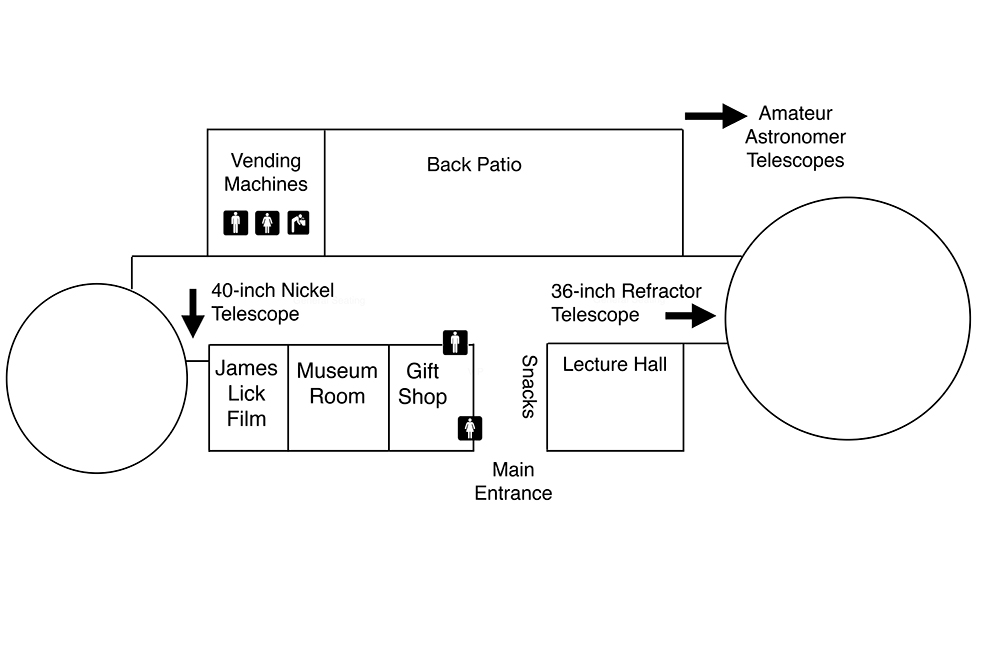 ---
Share Your Experience
If you attend an event make sure to tag us on Facebook, Instagram, Twitter!
Leave a review on Yelp here.