If you take pictures of a galaxy night after night (or better yet take pictures of lots and lots of galaxies night after night) you will find that now and then there is a new, very bright light source in the galaxy. The new source can often be as bright as a small galaxy (nearly a billion times as luminous as the Sun). These spectacular explosions are Supernovae and one particular type, SNI, have the following properties:
SNI - No hydrogen seen in their spectra

Found in All types of galaxies including ellipticals

Seen everywhere within galaxies (Halo and Disk)

Maximum brightness: (!!)

Supernove searches find per year in other galaxies
What is going on? Remember the equilibrium of a RGB core or a WD.

degeneracy is balancing gravity.
Remember the

Chandrasekar Limit for WD masses.
The idea is, mass accretion onto a WD in a binary adds enough mass to the WD to push it over the Chandrasekar Limit. Because of the funny way

degeneracy works, for the same reason the Helium Flash happens, now in the

a-little-bit WD the temperature shoots up and within second a fusion chain triggers that fuses elements all the way up to radioactive Nickel.
The WD had a runaway thermonuclear catastrophe! This star has exploded!
What is RIGHT about this theory?
Would expect to see these objects in ``old'' populations (Elliptical galaxies and the halos of Spiral galaxies)

Models of what happens when you add a little mass to a WD give the right total luminosity for the explosion

The prediction of the models that lots of Ni will be produced in the explosion fit the Light Curves perfectly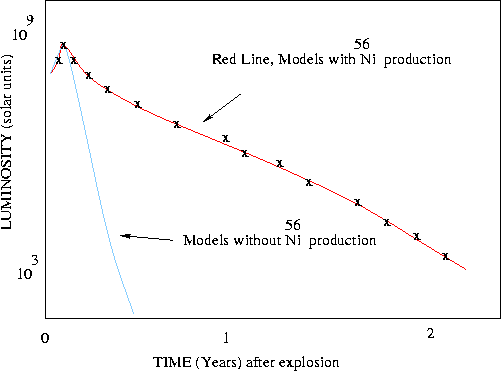 The initial outburst of the fusion reactions would fade very quickly if not for the production of radioactive Ni that decays to Co which decays to the stable Fe .

What is WRONG about this theory?

Accreted mass is mostly Hydrogen...

This leads to Theory #2 for SNI. If two WDs merged this would lead to the same type of explosion.

The problem with this one is we find far too few close WD pairs.

The details are a little fuzzy...
---



Michael Bolte
Mon Feb 23 18:16:20 PST 1998