Light can be thought of as a WAVE
Think about ocean waves: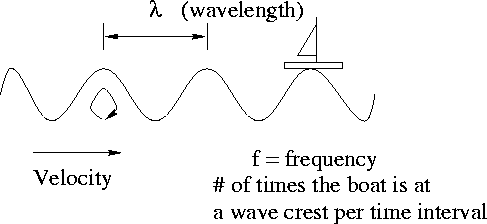 ``

" = ``Wavelength'' = distance between crests (or any two identical spots). The units are distance units like ``feet'' or ``meters''.
``f'' or ``

'' = ``frequency'' = Number of times a boat goes up and down per unit time. The units are 1/(time), e.g. 1/second. Sometimes this is stated as ``cycles/second''.
v = speed of the wave. Units of distances/time.
The boat goes up and down with the waves. What about the water?

Q. Just what is traveling in the direction of the waves?

Energy and information. Waves are a disturbance traveling through a medium (although E-M radiation can travel in a vacuum).

There are other kinds of waves (ocean waves are sometimes called ``gravity waves'' or ``surface waves'')
Sound Waves: are density/pressure waves.

The speed of sound in air (on a cool day) is ~1000 feet/second (this is the basis of the old ``distance of the thunderstorm'' trick). Do the air molecules travel at this speed? In a higher-density medium (for example railway tracks) it travels faster.
So, what does this have to do with LIGHT?
An electrically charged particle has an electric field extending to infinity. If this charge is accelerated , the position of the field center changes and that information propogates out as a ``kink'' in the field lines. A magnetic field is also induced at the kink. This traveling kink is an electro-magnetic wave.
The SPEED with which the information that the charge accelerated travels outward is called the Speed of Light:
---



Michael Bolte
Wed Jan 14 23:06:17 PST 1998