Ultra-cheap trick: ``Say, that star looks a little bit redder than the Sun so its surface temperature must be less than 5200K''
Cheap Trick: Disperse the light from a star (``take a spectrum'') and find the wavelength at which you have the most radiation then apply Wien's Law.
One of the two ways it is really done - measure colors:
For Planck spectra (from solid objects), the ratio of the light in two different color filters unambiguously gives the temperature of the objects.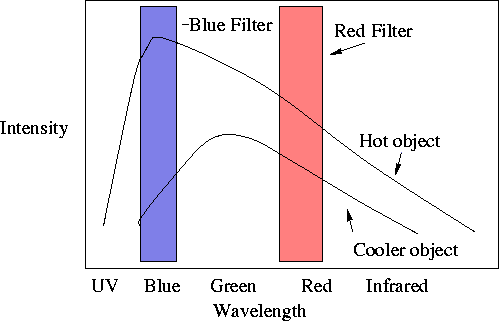 Cooler objects will have redder colors. To the extent that Stellar spectra look like blackbodies, the temperature of a star can also be measured amazingly accurately by recording the brightness in two different filters.
This leads us to a good question: What do Stellar spectra look like?
In the 1800's the light from the Sun was dispersed and it looked more-or-less like a Planck spectrum with some Missing Light , or ``absorption lines'' at certain wavelengths.
It turns out that colors can still be used to measure stellar temperatures, the relationship between color and surface temperature is just a little more complicated and needs to be calibrated using computer models.
To get a stellar temperature:
Measure the brightness of a star through two filters and compare the ratio of red to blue light
Compare to the spectra of computer models of stellar spectra of different temperature and develop an accurate color-temperature relation
Now, those wavelengths with missing light in a stellar spectrum turned out to be very interesting and important. Their importance was realized after Emission line spectra were discovered and investigated by chemists.