Evolution of Low-Mass Binary Stars
A Good Astronomical Puzzle - Algol

Algol (also known as β Persei) is a double-lined, eclipsing, spectroscopic binary with an orbital period of around three days.

Component A: B8 3.7MSun main-sequence star

Component B: G5 0.8MSun "subgiant" star

What is wrong with this? The 0.8MSun star should evolve MORE slowly than the 3.7MSun star and should still be on the main-sequence.

The solution has to do with the short-period orbit.

The Algol Story:

In the beginning, there were two stars, A at 1.2MSun and B at 3MSun. There is a point between the two stars where the gravitational pull of Star A is equal to that of Star B. This is called a "Lagrange Point" and there is an hourglass(ish) shaped "equipotential surface" called the Roche lobes. (Note that this is in a strange rotating reference frame).

As Star B begins its trip up the Red Giant branch it swells until its radius reaches the L1 point (or, until its radius exceeds its Roche Lobe radius) and Star B begins to spill mass through L1 to Star A.

This is called a Mass Transfer Binary.

Under certain circumstances, Star B can transfer enough mass to Star A so that Star A becomes the more massive of the two. This looks like Algol.

You can have even Weirder things happen in mass-exchange binaries.

Think about continuing evolution for case where most of the Star B mass gets exchanged.

Now have a Helium WD (B) plus a massive Main-sequence Star (A)

When Star A begins its evolution up the RGB it will reach its Roche Lobe radius and star to spill material back onto B (now a He WD).

As mass accumulates on the hot surface of the WD, it traps radiation, heats up and when T reachs 107 K the hydrogen begins fusion to He and there is a dramatic flare-up in the luminosity of the system.

| | |
| --- | --- |
| Increase in L | Name |
| 10X | Dwarf Nova |
| 10,000X | Classical Nova |

Because the fusion is on the surface of the WD, there is an ejection of material at ~2000 km/sec.

Sometimes, the mass accretion stars up again leading to Recurrent Novae.

Every year there are 10 - 20 bright novae in the Galaxy.
Type I Supernovae
If you take pictures of a galaxy night after night (or better yet take pictures of lots and lots of galaxies night after night) you will find that now and then there is a new, very bright light source in the galaxy. The new source can often be as bright as a small galaxy (nearly a billion times as luminous as the Sun). These spectacular explosions are Supernovae and one particular type, SNI, have the following properties:
SNI - No hydrogen seen in their spectra

Found in All types of galaxies including ellipticals

Seen everywhere within galaxies (Halo and Disk)

Maximum brightness: 6 x 108 (!!)

Supernove searches find ~25 per year in other galaxies
What is going on? Remember the equilibrium of a RGB core or a WD. e- degeneracy is balancing gravity.
Remember the 1.4MSun Chandrasekar Limit for WD masses.
The idea is, mass accretion onto a WD in a binary adds enough mass to the WD to push it over the Chandrasekar Limit. Because of the funny way e- degeneracy works, for the same reason the Helium Flash happens, now in the 1.4MSun + a-little-bit WD the temperature shoots up and within second a fusion chain triggers that fuses elements all the way up to radioactive Nickel.
The WD had a runaway thermonuclear catastrophe! This star has exploded!
What is RIGHT about this theory?
Would expect to see these objects in "old" populations (Elliptical galaxies and the halos of Spiral galaxies)

Models of what happens when you add a little mass to a 1.4MSun WD give the right total luminosity for the explosion

The prediction of the models that lots of 56Ni will be produced in the explosion fit the Light Curves perfectly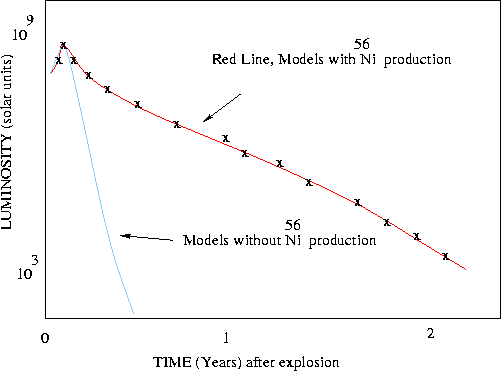 The initial outburst of the fusion reactions would fade very quickly if not for the production of radioactive 56Ni that decays to 56Co which decays to the stable 56Fe.

What is WRONG about this theory?

Accreted mass is mostly Hydrogen...

This leads to Theory #2 for SNI. If two 0.7MSun WDs merged this would lead to the same type of explosion.

The problem with this one is we find far too few close WD pairs.

Conclusion: SNI are from Chandrasekhar Mass + WD Explosion

The details are a little fuzzy...