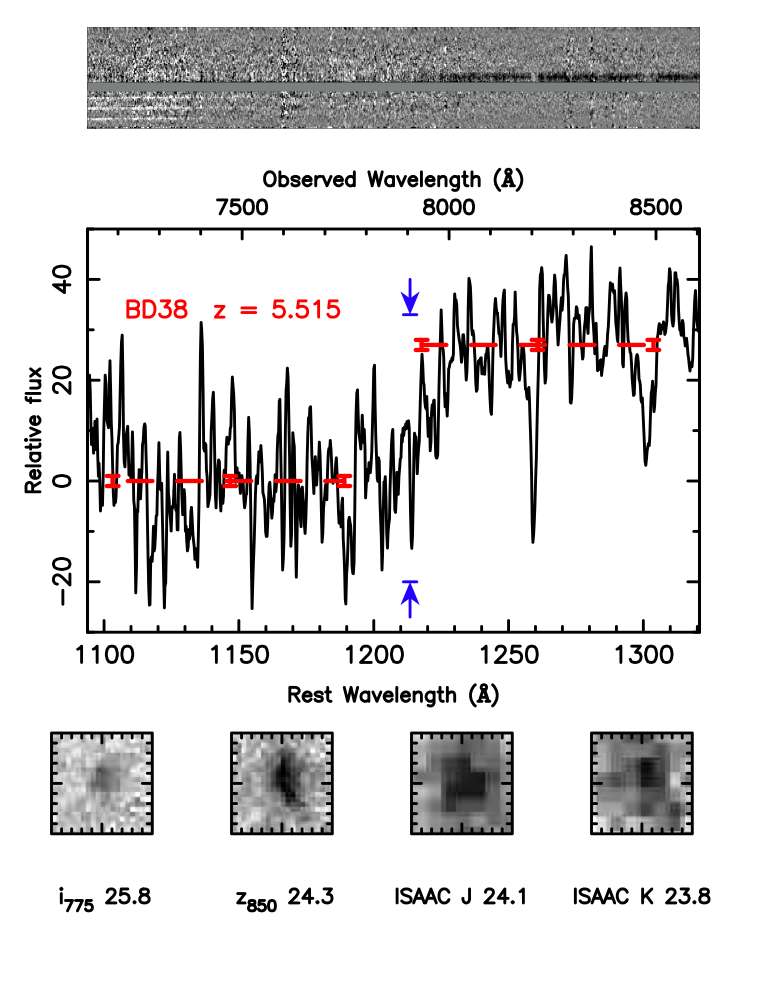 We have been following up the i-dropout galaxies found by Rychard Bouwens. We have observed these galaxies with specotrgraphs on the Keck and the VLT.
Left we show our prettiest spectrum to date, a z=5.5 i-dropout galaxy. The exposure was only 24 hours with FORS2. The second paper has a detailed disucssion of this object.
The most recent paper can be found as a PDF File on this webpage as well as be downloaded from arxiv.org
"Spectroscopy of z~6 i-Dropout Galaxies: Frequency of Ly&alpha Emission and the Sizes of Ly&alpha Emitting Galaxies" Dow-Hygelund, C., Holden, B. P., et al., ApJ, 660, 47 ADS (astro-ph/0612454)
"UV Continuum Spectroscopy of a 6L* z = 5.5 Starburst Galaxy", Dow-Hygelund, C. C., Holden, B. P., Bouwens, R. J., van der Wel, A., Illingworth, G. D., Zirm, A., Franx, M., Rosati, P., Ford, H., van Dokkum, P. G., Stanford, S. A., Eisenhardt, P. & G. G. Fazio, ApJL, 630, L137 ADS (astro-ph/0507306).
---
Go back to my
homepage
. holden at ucolick.org
2008-04-05
Any thought, idea, or opinion expressed in this document in no way reflects upon the policies University of California or UCO/Lick Observatories. Everything here is mine and mine alone.