Personal Stuff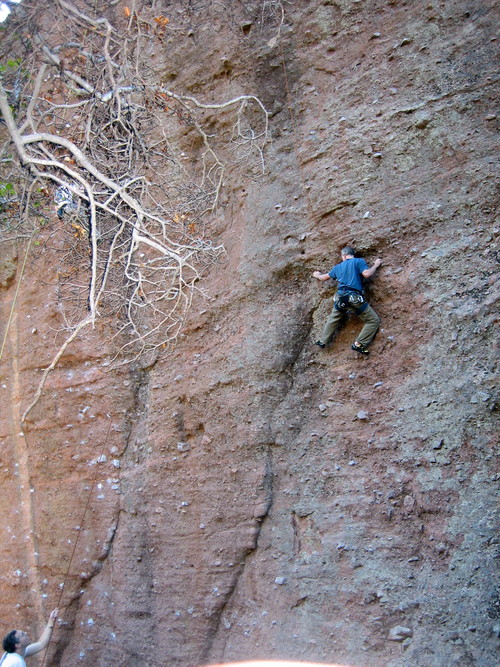 For fun I:
Go Climbing

The picture on the left was taken on the Monolith at Pinnacles National Monument. Looking closely, one can see a red rope, easiest coming up from the belayer (the amazing Tim Dubbs) in the lower left. I am aiming for the hole up and to the left.

This route is called Subterranaean Tango. Don't let the 5.11a grade fool you, most people do the 10a version. This route was first done by Tom Davis, a co-owner in the local gym, Pacific Edge. In this picture, I am wearing Evolv climbing shoes, if anyone would like to, say, sponsor me.

The photo is courtesy of Lisa Ellis who has a large gallery at summitpost.org. She is compiling a database of moderate routes and has a number of beautiful pictures from her trips throughout the southwest.

The photo on the bottom is my sweetie (boots on the right) and I on top of the Palisade Glacier.

Watch Hockey

As a Bay Area resident, I now support Team Teal. Occasionally I watch a game!

Spend free time with my sweetie

Our preferred form of vacation is heading outdoors with large packs on our backs. One of these days we should get a camera. Another one of these days, I need to drag her up a climb. You can see her boots in the photo below, taken by Josh Elvander on the Palisades Glacier.

Listen to Music

We also attempt to see the symphony and the opera. When I am in the mood for something less formal, I listen to KEXP.

---

Go back to UCO/Lick Observatory homepage.
holden@ucolick.org
2006-12-18
Any thought, idea, or opinion expressed in this document in no way reflects upon the policies University of California or UCO/Lick Observatories. Everything here is mine and mine alone.