Australia


Updated 2 Nov., 2000
Click on these stamp-sized images to see larger versions.
---
---
Australian Capitol Territory


---
New South Wales





1st-3rd: Sydney harbour.


---
Northern Territory





1st-3rd: Ayer's Rock.








1st-3rd: The Olgas.


---
Queensland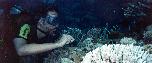 1st: Daintree rainforest.
2nd-4th: Great Barrier Reef near Cairns. (chasing a shark like this is not recommended).


---
South Australia




1st-2nd: Flinders Ranges, and Wilpena Pound.
3rd:Double rainbow near Murray.

---
Victoria




1st-2nd: Melbourne at night.








1st-4th: The Great Ocean Road with the Twelve Apostles.
---
---
Return to main photography index