Measure Stellar Ages
This stellar evolutionary clock comes in very handy. For individual stars it is hard to measure an age. But for the case of Star Clusters we can measure ages from the Main-Sequence Turnoff.

Star Clusters are groups of gravitationally bound stars. They range in size from a few 10's of stars up to more than 1 million stars. The nice thing about a cluster of stars is that all the stars are at the same distance and it seems that clusters have only a single burst of star formation, so all the stars in one cluster are the same age.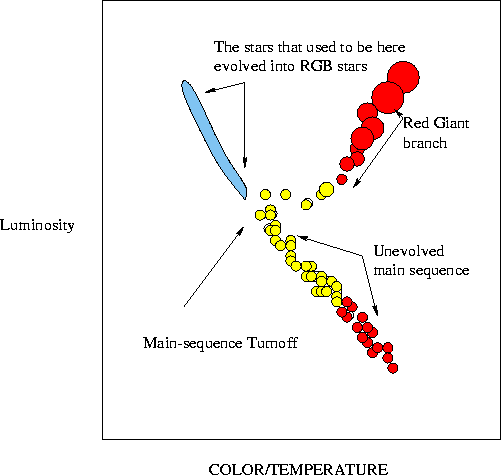 As a cluster ages, the mass of the main-sequence turnoff stars decreases. By determining the mass of the main-sequence turnoff stars, we get the age of the cluster.

The cluster age equals the main-sequence lifetime of the turnoff stars.

This is one of the ways we have studied the age of the Universe and the formation history of the Galaxy. The objects in the Galactic Halo are at least 10 billion and perhaps as old as 14 billion years old. There is an interesting story that we will talk about in detail later that has to do with the correlation of the abundance of the elements in stars with their age.

Getting ages for many star clusters has led to some interesting results.

There are star cluster ranging in age from 0 to 13 billion years

The Young clusters are in the disk of the Galaxy and the youngest are associated with gas and dust clouds

The Oldest clusters are in the Galactic Halo and Bulge

Stars in the oldest clusters are deficient in elements heavier than He.

These things have lead to two interesting conclusions:

The abundances of the elements has been changing with time

The Halo and Bulge of the Galaxy formed first, with the remaining gas and dust in the Galaxy collecting in a rotating disk where star formation has been proceeding ever since