It's a Girl!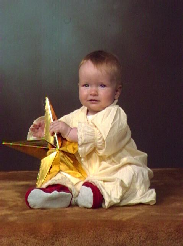 Karen Hellgren and Steve Allen announce the birth of their second child.
Particulars
Location:

Longitude -121d 58' 39", Latitude +36d 59' 16" [1983 North American Datum]

Sutter Maternity & Surgery Center
Santa Cruz, CA

Date/Time:

Wednesday 2000-01-26T09:51 PST

Mass:

4.055 kg
8#15z

Linear dimension:

0.54m
21 1/4 in.

Name:

Catherine Savannah Allen
Katie for short.
Parents, child, and older sister have good circadian rhythm.
Check back for more details...
---
Karen Hellgren <hellgren@alumni.caltech.edu>
Steve Allen <sla@ucolick.org>