July 13, 2019
8:30 p.m.
Performer: The Quitters
Astronomy Speaker: Dr. Natalie Batalha, UC Santa Cruz
---
Concert Information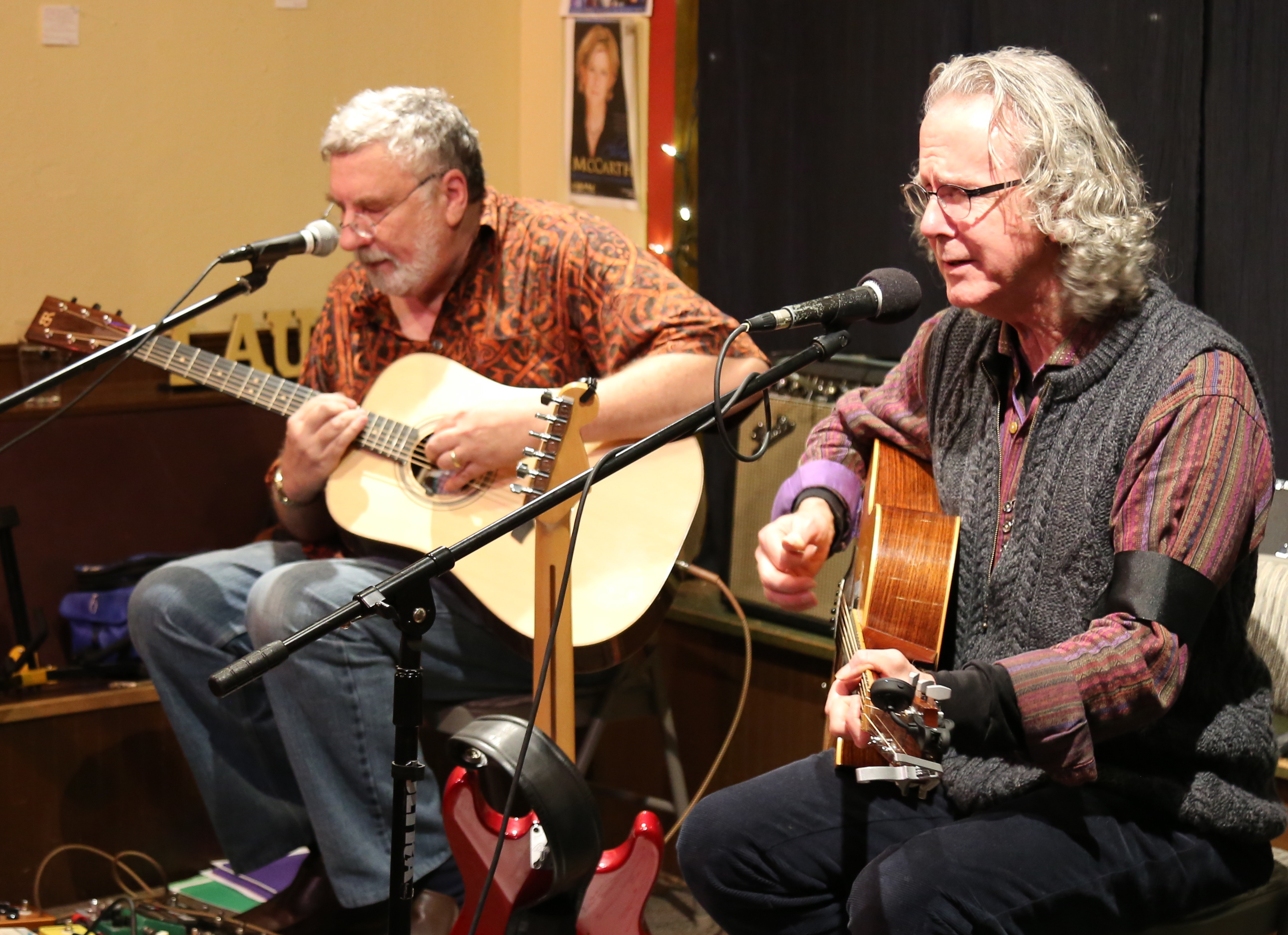 The Quitters
A quote from the Strawberry Music Festival: "Stevie Coyle and Glenn Houston make up the dynamic guitar duo, The Quitters. Having each quit some of the best bands in the business, both are late founding members of The Waybacksand each have performed at Strawberry in other configurations. Stevie Coyle has a long and illustrious career as an entertainer that began well before birth and Glenn Houston's well decorated history in music is best known to berry heads for his founding role of powerhouse Americana quintet, Houston Jones. As individuals, both are renowned players in music circles. Now they have joined forces, to the delight of California audiences, to become a right-handed, right-side up fingerpicking and left-handed upside down flatpicking twosome. Mostly acoustic. Some electric. Much serendipity."
STEVIE COYLE(late of the whiz-bang string band The Waybacks) is one lucky bum. His dad ran a radio station in southern California and brought home all the promo LPs that didn't fit the Spanish-language format. The Ventures' Guitar Freakout and Alvin & The Chipmunks Play The Beatles' Hits both came home on a single fateful day.
It didn't hurt, either, that string-meisterDavid Lindley played in a bluegrass band that rehearsed right next door and gave Stevie his very first lessons, or that his dear Granny was a pianist in the heyday of vaudeville, or that his sainted mother was a whiz in mandolin orchestras of the 1930s. Not even several years of playing Folk Masses on Sundays could quash his musical spirit.
After securing degrees in Theatre and Theology at Santa Clara University he hit the road for 3 years with The Royal Lichtenstein Circus. Once back home, he signed on as actor / stage manager for San Jose Rep. He announced killer whale shows. His best friend was an elephant.
He and pal Roy Zimmerman have worked closely in several collaborations over the years, including folk tribute / parody band The Foremen and comedy duo The Reagan Bros. The boys were regulars at The Comedy Strore and The Improv. Stevie appeared on Cheers, in many television commercials and had a recurring role on The Young And The Restless.
Hey, wake up!! We're almost done.
Safely back in the Bay Area, he continued his acting career, doing commercials, voiceovers and films, and played in the folk duo The Frontmen. He co-founded The Waybacks in 1999 and fronted that band through 2007. They released 4 albums in that time, played major festivals like Merlefest, Grey Fox, Floydfest and Hardly Strictly Bluegrass, toured Australia and collaborated with Lloyd Maines, Michelle Shocked and Bob Weir of The Grateful Dead.
GLENN HOUSTON(nee Pomianek) has been voted Best Guitarist by the Northern California Bluegrass Society, is a past judge of the National Flatpicking Guitar Championship Competition in Winfield, Kansas, and was the founding lead guitarist of the Waybacks, co-founder and long-time lead guitarist for Bammie (Bay Area Music Award) winners Hearts on Fire, and co-founder and long-time lead guitarist for the powerhouse Americana quintet Houston Jones.
Originally from New Jersey, Glenn's guitarist influences range from Albert King and Michael Bloomfield to Doc Watson and James Burton. These influences show in his well-balanced mastery of both acoustic and electric guitar.
Over the years, Glenn has shared billing with such luminaries as Emmylou Harris, Merle Haggard, the Tubes, the David Grisman Quintet, the Nitty Gritty Dirt Band, Bela Fleck, Tim O'Brien, Hank Williams Jr., Steve Earle, John Hartford, Earl Scruggs, Doc and Merle Watson, Willie Nelson, Waylon Jennings and Delbert McClinton. Glenn has been the lead guitarist for country great Johnny Paycheck, and has performed and recorded with Grammy winner Ramblin' Jack Elliott. With his strong background in electric blues, Glenn has performed with blues legends Mark Naftalin (Paul Butterfield Blues band) and Nick Gravenites (Electric Flag) in tribute to Mark and Nick's late band mate, blues great Michael Bloomfield.
Glenn's classical music background includes choral vocal performances with the Los Angeles Philharmonic (Zubin Mehta conducting, Beethoven's Ninth Symphony, at Carnegie Hall and the United Nations General Assembly [the U.N.'s 25th anniversary celebration]), and the Boston Symphony (Erich Leinsdorf conducting, Brahms' Requiem, at Carnegie Hall).
---
Lecture Information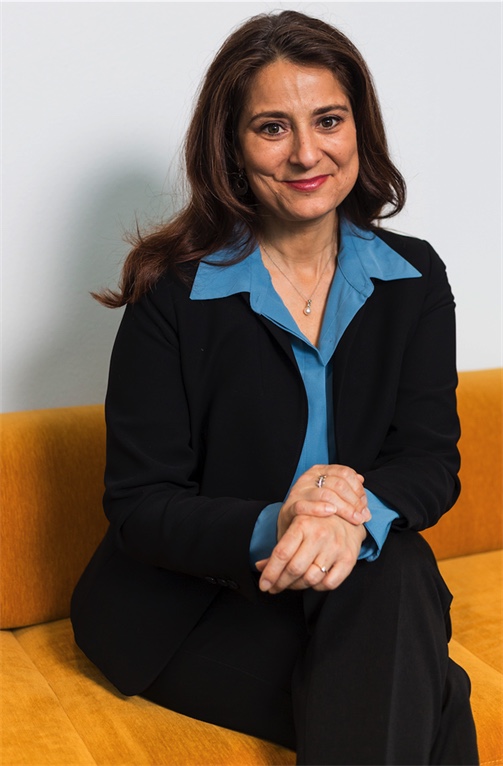 Dr. Natalie Batalha
Lecture Title TBD


Dr. Natalie Batalha is a Professor of Astronomy and Astrophysics at UC Santa Cruz. Award-winning astrophysicist Natalie Batalha served as the scientific lead for NASA's highly successful Kepler mission, which discovered more than 2,500 planets around other stars. When the Kepler space telescope retired in October 2018, Natalie left NASA to join the faculty at UC Santa Cruz, returning to where she had received her Ph.D. in astrophysics in 1997. On the Kepler mission, she identified planets that might be able to sustain life and led the analysis that yielded the discovery in 2011 of the first confirmed rocky planet outside our solar system. Her career trajectory includes a bachelor's degree in physics from UC Berkeley, a postdoctoral fellowship in Brazil, and a faculty position at San Jose State University in astronomy and astrophysics. She then joined the exoplanet discovery team at NASA Ames Research Center under William Borucki, leading to her position as scientific lead for the Kepler mission. In 2017, Time magazine named her among the 100 most influential people in the world.





---
Ticket Information
Join Friends of Lick Observatory (FoLO) and Get Tickets Early
If you'd like to purchase tickets as early as noon on April 10th, 2019, join our Friends of Lick Observatory (FoLO) program by April 1st, 2019. As a thank you for supporting the observatory, you'll get special access to purchase tickets before they go on sale for the general public on April 17th at noon.
---
Ticket Packages
General Admission: $50

Ticket includes concert seating, astronomy lecture, view through the Great Refractor telescope, view through the Nickel Telescope and souvenir wine glass or mug.
Preferred Guest: $90
Ticket includes preferred concert seating, astronomy lecture, preferred viewing through the Great Refractor telescope, preferred viewing through the Nickel Telescope, souvenir wine glass or mug, 20% discount at the gift shop.
VIP: $199
Ticket includes private group tour of the Shane Telescope before the concert, catered buffet dinner in our historic Dining Hall, front center concert seating, astronomy lecture, priority viewing through the 36-inch Great Refractor, priority viewing through the 40-inch Nickel Telescope, souvenir wine glass or mug and 20% Discount at our gift shop.
---
More Ticket Information
Due to the historic construction of the telescope domes and safety concerns, the 36-inch Great Refractor Telescope and the 40-inch Nickel Telescope are not wheelchair accessible at this time. Those who have difficulty navigating stairs may also find the telescopes inaccessible. Funds are being raised through the Friends of Lick Observatory to repair the elevating floor of the Lick 36-inch telescope to re-enable handicap access.
Tickets are non-refundable. Limit of four tickets per customer. Please be advised that unpredictable weather patterns may restrict telescope viewings, though lectures, concerts and other activities will still take place.
Please note: Due to safety regulations and the nature of the event, children must be at least 12 years of age for admission and accompanied by an adult.

---
Program Information
| | | |
| --- | --- | --- |
| 7:30 p.m. | Doors Open | Brief Telescope Visits |
| 8:30 p.m. | Concert, Main Hall | |
| 9:30 p.m. | Science Talk, Lecture Hall | Telescope Viewings |
| 10:30 p.m. | Science Talk (repeated), Lecture Hall | Telescope Viewings |
| 1:00 a.m. | Doors Close | |
Driving to Lick Observatory
Please allow a one-hour drive from San Jose. The road is good, but windy. The event typically lasts between 4 and 6 hours; prepare to drive home late in the evening. There are no automative services or gas stations for 20 miles, so please plan ahead. See more information on driving directions and parking here.

Recommended Attire
Casual, comfortable clothing and walking shoes. A sweater or light coat is recommended.
Safety
Please be careful when walking around in the dark outside; bringing a flashlight is recommended. Children under the age of 12 are not allowed at this event.
Telescopes
The large telescopes will be available for viewing as soon as the sky is dark. Telescopes will remain open until every guest has had an opportunity to see through both the 36-inch Great Refractor and the 40-inch Nickel Telescope.
In order to view through the telescopes, guests will receive a numbered pass at the door. Guests with the lowest telescope numbers are admitted to the telescopes first - so we recommend getting to the observatory early! Please note: Due to historic construction of the telescope domes, the 36-inch Refractor and the 40-inch Nickel Telescope are not wheelchair accessible at this time.
Volunteer amateur astronomers also set up ground telescopes in the back parking so guests can view additional cosmic objects.
Gift Shop
Lick Observatory souvenirs and astronomy merchandise will be available for purchase between 7:30 to 11:30 p.m. You can also visit our Gift Shop online 24/7.
Refreshments
Snacks and beverages will be available near the Nickel Telescope. Vending machines and fountain water are also available.
Assistance
We strive to make your visit as complete and meaningful as possible. Please let us know if you will need special assistance (for example, if you will have difficulty climbing stairs), so we can make the necessary arrangements.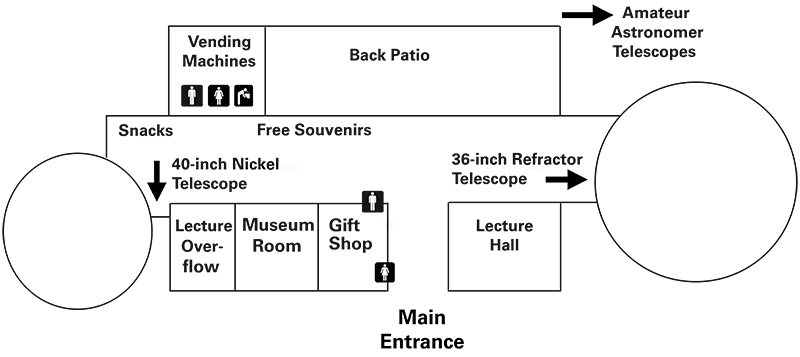 ---
Share Your Experience
If you attend an event make sure to tag us on Facebook, Instagram, Twitter!
Leave a review on Yelp here.