Finland / Suomi


Updated 3 November 2000


Updated 10 January 2003

Click on these stamp-sized images to see larger versions.
---
---
From the air








---
Helsinki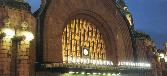 Helsinki train station. Note how this typical case where the words in Finnish are completely indecipherable, since the language is unrelated to anything most people know. Knowing a Germanic language can really help in figuring out the Swedish which usually accompanies the Finnish.








1st-2nd:Helsinki harbor. The ubiquitous cruise/ferry ships (to Stockholm and Tallinn) dwarf the buildings.
4th:Tuomiokirkko (Lutheran cathedral). There is a cafe in the crypt.










A gloomy northern city? No -- Helsinki was sunny and colorful!













Monument to Sibelius, Finland's greatest composer. The pipes can somehow be played.
































---
Jurva


Left:A field in Jurva (between Vaasa and Seinäjoki).
Right:The farmhouse in Tainuskyla (neighborhood of Jurva) built by my great-grandfather, where my father was born.

---
Lahti









---
Porvoo









---
Rovaniemi/Napapiiri





---
Turku/Åbo




Turku is the oldest city in Finland (begun as a Swedish colony in 1229).
Left:Turku castle -- what's the big deal?
Center:Suomen Joutsen, "The Swan of Finland"
Right: The boat to Stockholm.

---
Elsewhere





1st: Wheat fields in rural Finland.
2nd: Oat fields.
3rd: Cousins in Vaasa.


4th: Church in Seinajoki designed by Alvar Aalto, Finland's legendary architect.

---
---
Return to main photography index