Want early tickets? Join Friends of Lick Observatory (FoLO)
As a thank you for joining, FoLO members can purchase tickets to the Summer Series earlier than the general public. FoLO members will recieve a special code via e-mail to get ahead of the crowd.
For more information, contact friends@ucolick.org.
---
What is FOLO?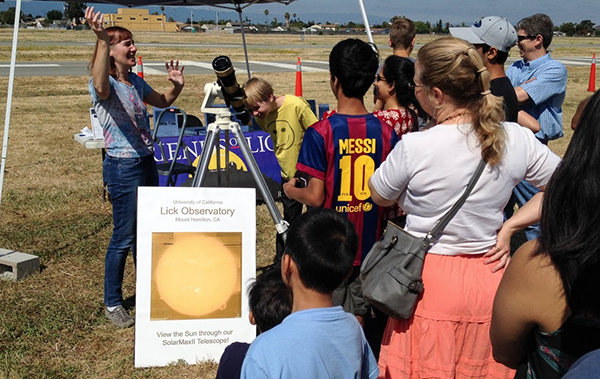 Since its founding, Lick Observatory has enjoyed the good will of those who are inspired by the cosmos. Throughout its history, friends have been an indisepnsable part of the observatory's success, starting with James Lick and including early philanthropists, like those who funded the Lick eclipse expeditions that verified Einstein's theory of general relativity, and more recent donors like Google.
Friends of Lick Observatory (FoLO) offers members an opportunity to participate in the Lick community and enjoy special connections with the telescopes, scientists, and science programs. FoLO also supports Lick Observatory through fund-raising and community outreach.
---
FoLO-Funded Projects
FoLO memberships and donations help support Lick Observatory for current and future generations by:
Preserving history
Enhancing facilities
Launching public programs
Supporting UC students
Developing new technology
Building new telescopes
---
Discover the benefits of joining the FoLO family.
Celestial Circle - $50
Student/Senior (65 & older): $30
Family (Two Adults & Children under 18): $75
Benefits include:
Membership Card
Lick Observer Newsletter
10% discount on Lick Observatory Gift Shop merchandise
Participation in Association of Science Technology Centers Passport Program
Opportunity for advance purchase of Summer Series tickets
---
Nebula Circle - $150
Benefits include:
Celestial Circle Benefits
Plus: Priority Seating for Summer Series Events
Plus: Exclusive Set of Laurie Hatch Lick Observatory Note Cards
---
Galaxy Circle - $500
Benefits include:
Nebula Circle Benefits
Plus: Two General Admission Tickets to a Music of the Spheres Concert
Plus: Priority Telescope Viewing at Lick Summer Public Programs
---
Supernova Circle - $1000
Benefits include:
Galaxy Circle Benefits
Plus: Invitation to Exclusive Member Event
---
Quasar Circle - $2500
Benefits include:
Supernova Circle Benefits
Plus: Private Tour of Lick Observatory by Astronomer
---
James Lick Society - $5000
Benefits include:
Quasar Circle Benefits
Plus: Private Viewing Session at the Great Lick Refractor
Plus: Invitation to the Director's Reception
---
Join the family online.
Memberships are good for one year and benefits may be changed or substituted without notice. As is customary, a small portion of every gift is used for administration. The remaining 94% of your gift goes directly to Friends of Lick Observatory (FoLO). Your gift is tax deductable; the UC Santa Cruz Foundation TAX ID number is 23-7394590. Friends of Lick Observatory (FOLO) is overseen by the Lick Observatory Council, a dedicated group of scientists, business entrepreneurs, and long-time supporters working to ensure a long-term, healthy future for Lick Observatory.
Please note: All gifts to Lick Observatory are processed through the UC Santa Cruz Foundation. By clicking the button below, you will be taken to the UC Santa Cruz Foundation site. Be sure to indicate your gift is to benefit the Lick Observatory.Thank you for your dedication and support.
---
Join the family by mail.
If you prefer to mail in your membership, download a printable membership form and mail it to the following address:
Friends of Lick Observatory
UC Observatories
1156 High Street
Santa Cruz, CA 95064