Latest
---
Roman/WFIRST and the Astronomy Community
Preamble from 2020 for the Decadal submission of the memo and the letters. Read more...
---
Fast Company article on the early history of JWST with Garth Illingworth
A half century in astronomy has earned Garth Illingworth a front-row seat to several rocket launches bearing his fingerprints. Read more...
---
NGST: The Early Days of JWST

Nearly thirty years ago Riccardo Giacconi, then the Institute Director, challenged Peter Stockman (Research Branch Head) and me (Deputy Director) to "think about the next major mission beyond Hubble." More on NGST: The Early Days of JWST...
Hubble Legacy Fields

The Hubble Legacy Fields (HLF) project covering a 25 x 25 arcmin area over the GOODS-S (ECDF-S) region. The HLF combines exposures from Hubble's two main cameras, the Advanced Camera for Surveys (ACS/WFC) and the Wide Field Camera 3 (WFC3/IR), taken over more than a decade between mid-2002 to early 2016. More on the HLF project...
XDF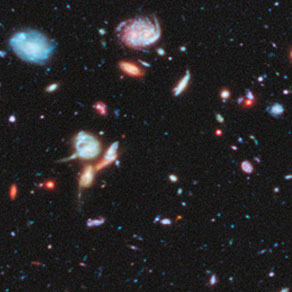 The Hubble eXtreme Deep Field (XDF) Project has combined 50 days of observations with the Hubble Space Telescope using the Advanced Camera for Surveys Wide Field Channel and the Wide Field Camera 3 InfraRed Channel to create the deepest image of the universe. More on the XDF project ...
HUDF09

The Hubble UltraDeep Field 2009 (HUDF09) Project was conceived in 2007. In 2008, through a highly competitive proposal process, the HUDF09 team was awarded 192 orbits (12 days) of observations on the Hubble Space Telescope with the new Wide Field InfraRed Camera (WFC3/IR). More on the HUDF09 project...
firstgalaxies.org
---

Explore the origins of the first galaxies. firstgalaxies.org is a site for learning about the latest research in the area of the most distant galaxies. Visit firstgalaxies.org...
Projects
---
TMT

The Thirty Meter Telescope (TMT) will be the world's most advanced and capable ground-based optical, near-infrared, and mid-infrared observatory. It will integrate the latest innovations in precisions control, segmented mirror design, and adaptive optics. More on TMT...
JWST

The James Webb Space Telescope (JWST) is a large, infrared-optimized space telescope, scheduled for launch in 2018. JWST will find the first galaxies that formed in the early Universe, connecting the Big Bang to our own Milky Way Galaxy. More on JWST...
Past Projects
---
2009 AY207 Class "Mini-Decadal"
In May 2009 my "Future Directions" graduate class undertook to learn about the Decadal Survey process by doing their own "mini-survey". Here is the resulting priority list with some background on how it was done.
AAAC

The Astronomy and Astrophysics Advisory Committee (AAAC) advises the National Science Foundation (NSF), the National Aeronautics and Space Administration (NASA) and the U.S. Department of Energy (DOE) on selected issues within the fields of astronomy and astrophysics that are of mutual interest and concern to the agencies. More on the AAAC...
Contact
Email
---
Phone
---
1-831-459-2843
Address
---
Garth D. Illingworth
University of California Santa Cruz, UCO/Lick Observatory
1156 High St.
Santa Cruz, CA 95064