6/25/13: GJ667C: Habitable Zone Packed with Three Earth-sized Exoplanets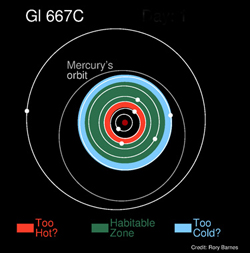 Press Release
Paper: A Dynamically Packed Planetary System around GJ667C with 3 super-Earths in its Habitable Zone
Movie: GJ 667C's Orbiting Planets
Movie: Overview of GJ 667C's Planets (wmv download)
Figures: Artistic Renderings
Figure: Habitable Zone Diagrams
Catalog: Planet Habitability Laboratory
Figure: Constellation View
Reanalysis of data from Keck and other observatories combined with data from ESO's HARPS (High Accuracy Radial velocity Planet Searcher) has led to the discovery of the first extrasolar planetary system with three potentially habitable planets. GJ 667C, a nearby low-mass star, is the first star to known host several Super-earth planets in its habitable zone. In this planetary system, the habitable zone lies entirely within an orbit the size of Mercury's, much closer in than for our Sun.
"The findings are based in part on data that Paul Butler and I have taken over the past 13 years using the HIRES spectrometer on the Keck Telescope in Hawaii," said Steve Vogt, UCSC professor.
This discovery indicates that habitable planets may be more numerous that previously thought. The number of potentially habitable planets in our galaxy is much greater if we can expect to find several planets around each low-mass star.