August 4, 2018
8:30 p.m.
Performer: Ancient Future
Astronomy Speaker: Dr. Vivian U, UC Irvine
---
Concert Information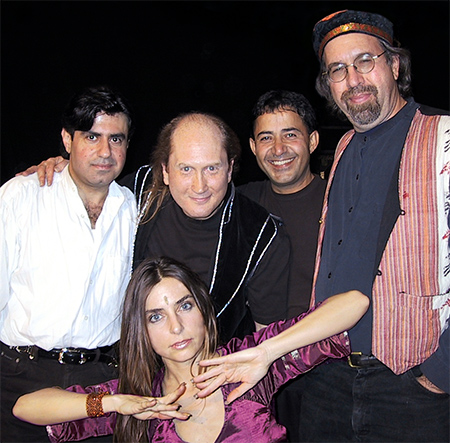 Ancient Future
American and Arabic musicians make exciting music that shows how cultures can dance together in this ensemble variation of the trendsetting world fusion music group Ancient Future. In concert, this ensemble inspires audiences with its uptempo mix of American and Arabic music and dance grooves. On Ancient Future's Planet Passion CD, Arabic violin virtuoso Georges Lammam adds an element of romantic fire. Born in Beirut, Lebanon, he is well-known in the Middle East as well as the US, having performed with the most well-known singers of the Middle East. He is on the faculty of the Near East Music and Dance Camp in Mendocino. His brother, percussionist Antoine Lammam, adds his poetry of rhythm to Planet Passion. He began his musical career at the age of 8 after he was given his first drum, an Egyptian tabla. He has accompanied many famous singers in the USA and the Middle East. He taught Arabic rhythms and percussion theory at UC Berkeley (World Music from the Middle-East) from 1991-2009. Fretless and scalloped fretboard guitar pioneer Matthew Montfort is the leader of Ancient Future. He has performed concerts world wide, including at the Festival Internacional de la Guitarra on the golden coast of Spain near Barcelona. He is the author of the book Ancient Traditions – Future Possibilities on the rhythmic traditions of Africa, Bali, and India. Doug McKeehan started his piano studies at age five, and began his first professional work at the age of twelve. He studied music at the Oberlin Conservatory, Kent State University, and the University of Otago (New Zealand). He has toured Europe twice and spent considerable time in India studying with notable Indian music teachers such as Pandit Ram Narayan, Ustad Kursheed Khan and Pandit A.G. Bhattacharya. Please visit Ancient Future's
website
for further information.
---
Lecture Information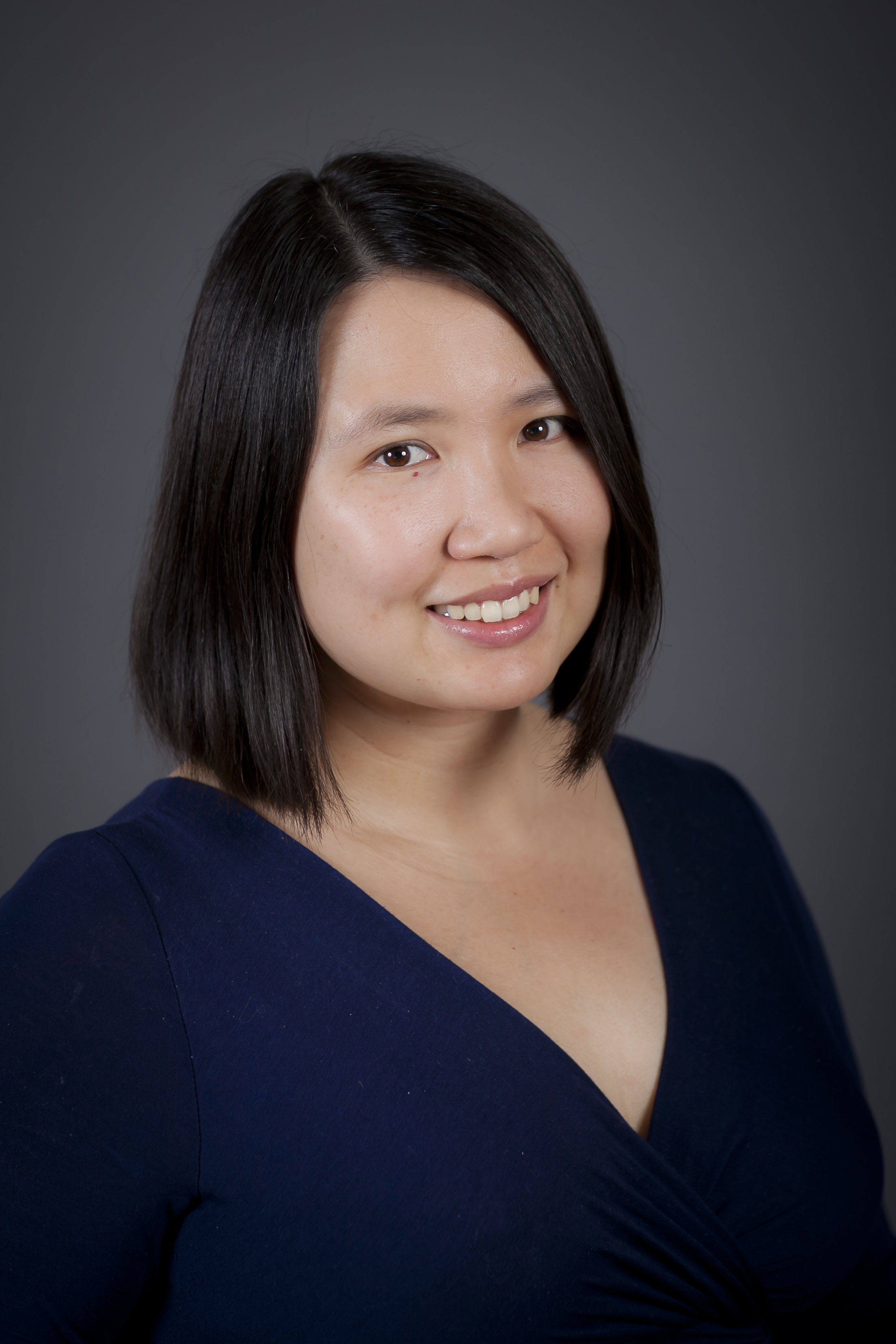 Dr. Vivian U
Dr. Vivian U is an observational astronomer in the Department of Physics and Astronomy at UC Irvine. She received her Bachelor of Science degree in Astrophysics from the California Institute of Technology in 2006, and then her Ph.D. in Astronomy from the University of Hawaii at Manoa in 2012. She was a recipient of the NASA-Harriett G. Jenkins Predoctoral Fellowship, the Smithsonian Astrophysical Observatory Predoctoral Fellowship, and the University of California Chancellor's Postdoctoral Fellowship.

Dr. U studies nearby galaxies and their supermassive black holes using primarily optical and near-infrared instrumentation with adaptive optics at the Lick Observatory on Mt. Hamilton and the Keck Observatory on Mauna Kea. She specializes in studying how supermassive black holes grow and interact with their immediate surroundings, particularly in nearby active or merging galaxies. She has extensive experience observing on most of the telescopes across the electromagnetic spectrum on Mauna Kea as a graduate student in Hawaii, and is currently leading the 100-night Lick AGN Monitoring Campaign that uses the 3-m Shane Telescope to measure black hole masses.

As a mother of two young children, Dr. U is a strong advocate for women scientists who may be underrepresented in the STEM fields due to overt discriminations or subconscious biases. She also understands the challenges faced by first-generation immigrants given her personal experience. Thus, she serves an advisory role to undergraduate and graduate students via the Women in Physics program, and contributes an active voice to the Advisory Council on Campus Climate, Culture, and Inclusion toward improving the retention rate of female and minority scientists in academia.
---
Ticket Information
Join Friends of Lick Observatory (FoLO) and Get Tickets Early
If you'd like to purchase tickets as early as noon on April 11th, 2018, join our Friends of Lick Observatory (FoLO) program by April 1st, 2018. As a thank you for supporting the observatory, you'll get special access to purchase tickets before they go on sale for the general public on April 18th at noon.
---
Ticket Packages
General Admission: $45

Ticket includes concert seating, astronomy lecture, view through the Great Refractor telescope, view through the Nickel Telescope and souvenir wine glass or mug.
Preferred Guest: $90
Ticket includes preferred concert seating, astronomy lecture, preferred viewing through the Great Refractor telescope, preferred viewing through the Nickel Telescope, souvenir wine glass or mug, 20% discount at the gift shop.
VIP: $199
Ticket includes private group tour of the Shane Telescope before the concert, catered buffet dinner with wine in our historic Dining Hall, front center concert seating, astronomy lecture, priority viewing through the 36-inch Great Refractor, priority viewing through the 40-inch Nickel Telescope, souvenir wine glass or mug and 20% Discount at our gift shop.
---
More Ticket Information
Due to the historic construction of the telescope domes and safety concerns, the 36-inch Great Refractor Telescope and the 40-inch Nickel Telescope are not wheelchair accessible at this time. Those who have difficulty navigating stairs may also find the telescopes inaccessible. Funds are being raised through the Friends of Lick Observatory to repair the elevating floor of the Lick 36-inch telescope to re-enable handicap access.
Tickets are non-refundable. Limit of four tickets per customer. Please be advised that unpredictable weather patterns may restrict telescope viewings, though lectures, concerts and other activities will still take place.
Please note: Due to safety regulations and the nature of the event, children must be at least 12 years of age for admission and accompanied by an adult.

---
Program Information
| | | |
| --- | --- | --- |
| 7:30 p.m. | Doors Open | Brief Telescope Visits |
| 8:30 p.m. | Concert, Main Hall | |
| 9:30 p.m. | Science Talk, Lecture Hall | Telescope Viewings |
| 10:30 p.m. | Science Talk (repeated), Lecture Hall | Telescope Viewings |
| 1:00 a.m. | Doors Close | |
Driving to Lick Observatory
Please allow a one-hour drive from San Jose. The rood is good, but windy. The event typically lasts between 4 and 6 hours; prepare to drive home late in the evening. There are no automative services or gas stations for 20 miles, so please plan ahead. See more information on driving directions and parking here.

Recommended Attire
Casual, comfortable clothing and walking shoes. A sweater or light coat is recommended.
Safety
Please be careful when walking around in the dark outside; bringing a flashlight is recommended. Children under the age of 12 are not allowed at this event.
Telescopes
The large telescopes will be available for viewing as soon as the sky is dark. Telescopes will remain open until every guest has had an opportunity to see through both the 36-inch Great Refractor and the 40-inch Nickel Telescope.
In order to view through the telescopes, guests will receive a numbered pass at the door. Guests with the lowest telescope numbers are admitted to the telescopes first - so we recommend getting to the observatory early! Please note: Due to historic construction of the telescope domes, the 36-inch Refractor and the 40-inch Nickel Telescope are not wheelchair accessible at this time.
Volunteer amateur astronomers also set up ground telescopes in the back parking so guests can view additional cosmic objects.
Gift Shop
Lick Observatory souvenirs and astronomy merchandise will be available for purchase between 7:30 to 11:00 p.m. You can also visit our Gift Shop online 24/7.
Refreshments
Snacks and beverages will be available near the Nickel Telescope. Vending machines and fountain water are also available.
Assistance
We strive to make your visit as complete and meaningful as possible. Please let us know if you will need special assistance (for example, if you will have difficulty climbing stairs), so we can make the necessary arrangements.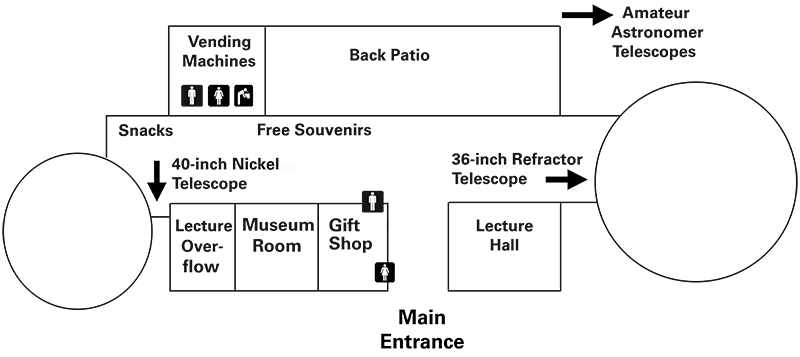 ---
Share Your Experience
If you attend an event make sure to tag us on Facebook, Instagram, Twitter!
Leave a review on Yelp here.