San Jose Jazz & Lick Observatory present
Grammy Award-Winning Jazz Music by:
Aaron Lington
June 27, 2015
8:30 p.m.
---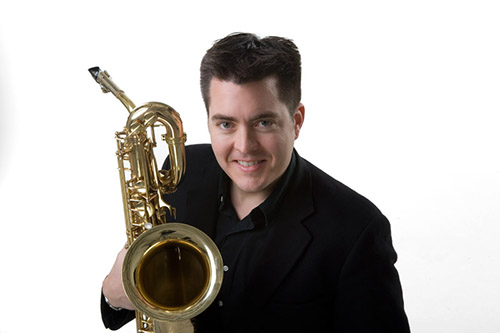 San Jose Jazz and Lick Observatory co-present Grammy Award-winning baritone saxophonist and composer Aaron Joseph Lington.
Dr. Lington received his BM in music education from the University of Houston, Moores School of Music, and both his MM in jazz studies and DMA in saxophone performance from the University of North Texas where he studied with James Riggs.
His performing and compositional credits include collaborations with the University of North Texas One O'clock Lab Band, the San Francisco Symphony, Maynard Ferguson, the BBC Radio Orchestra, the Count Basie Orchestra, Doc Severinsen, Bo Diddley, Joe Lovano, Jamie Davis, Tommy Igoe, Pacific Mambo Orchestra, and many others. In addition, he has won awards for both his playing and writing from Downbeat Magazine, ASCAP, and was the 2003 recipient of the Sammy Nestico Award. He was named the 2011 "Jazz Educator of the Year" by the California Music Educators Association, and has been recognized multiple times in the both the Downbeat Magazine Critic's Poll and Reader's Poll.
The San José Mercury News praises Dr. Lington's playing as "revelatory…he obviously relishes the beautiful, blustery bark of his instrument…" and that he possesses a "…finely honed melodic sensibility…" Josh Davies from the International Trumpet Guild states that Lington "...[shows] a true command of his instrument with a very studied and soulful essence." Cadence magazine declares "Lington and compatriots come up with a wonderful and totally American jazz sound, [resulting in] a solid mainstream set based on some sweet melodic improvisation."
In addition to his position as professor at San José State University where he serves as Coordinator of Jazz Studies, Dr. Lington is also a member of the faculty at the Texas Music Festival Jazz Institute, hosted by the University of Houston. Aaron Lington is a Saxophone Performing Artist for Selmer Saxophones and is a D'Addario Performing Artist and performs exclusively on Rico Reeds.
Astronomy Lecture by:
Dr. Peter Jenniskens, NASA AMES
"Look Up: All That Jazz!"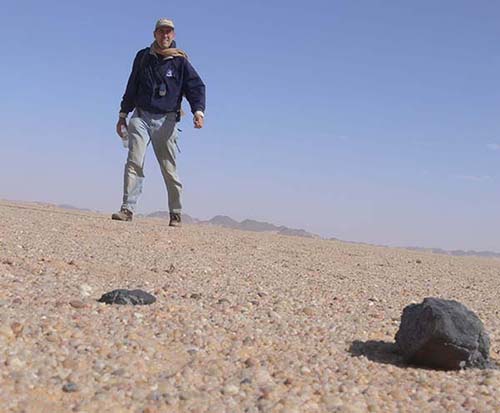 If you've ever spent a night under the stars and were excited by the sudden appearance of shooting stars or a particularly bright fireball, you'll enjoy meeting Dr. Peter Jenniskens, a meteor astronomer with the SETI Institute and NASA Ames Research Center.
Born in the Netherlands, Dr. Jenniskens was an active amateur meteor observer with the Dutch Meteor Society for many years and received his PhD from Leiden University on studies of interstellar matter. At NASA Ames Research Center, he led large teams of researchers in airborne observing campaigns to study meteor storms and the re-entry of spacecraft.
Dr. Jenniskens is best known for helping recover pieces of an asteroid that was seen approaching Earth before it hit over the Nubian Desert of Sudan. He is the current president of the International Astronomical Union's Commission 22 on meteors, meteorites and interplanetary dust. He visited Chelyabinsk, Russia shortly after the asteroid impact airburst that sent 1,200 people to the hospital, assisting the Russian Academy of Sciences in its field study.
In recent years, he has been conducting a meteoroid orbit survey called "CAMS", producing the first detailed maps of our meteor showers. NASA's CAMS program is supported by both professional and amateur astronomers in the Bay Area. One CAMS station is at Lick Observatory, while others are at Fremont Peak Observatory, in Sunnyvale, and in Foresthill.
In his lecture, Dr. Jenniskens will describe what is flying overhead while Earth plows through the interplanetary medium, and invite you to participate in the next hunt for meteorites.
---
Ticket Information
General Admission: $40
Preferred Guest: $90
VIP: $150
See more ticket information here. Tickets for this event are now sold out.
Next Year, Get Tickets Early
If you'd like to purchase tickets as early as April 2016, join our Friends of Lick Observatory (FoLO) program. As a thank you for supporting the observatory, you'll get special access to purchase tickets before the general public. To be notified when tickets go on sale to the general public, join our mailing list.
---
Program Information
| | | |
| --- | --- | --- |
| 7:30 p.m. | Doors Open | Brief Telescope Visits |
| 8:30 p.m. | Concert, Main Hall | |
| 9:30 p.m. | Science Talk, Lecture Hall | Telescope Viewings |
| 10:30 p.m. | Science Talk (repeated), Lecture Hall | Telescope Viewings |
| 1:00 a.m. | Doors Close | |
Driving to Lick Observatory
Please allow a one-hour drive from San Jose. The rood is good, but windy. The event typically lasts between 4 and 6 hours; prepare to drive home late in the evening. There are no automative services or gas stations for 20 miles, so please plan ahead. See more information on driving directions and parking here.
Recommended Attire
Casual, comfortable clothing and walking shoes. A sweater or light coat is recommended.
Safety
Please be careful when walking around in the dark outside; bringing a flashlight is recommended. Children under age 8 are not allowed at this event, and it may be unsuitable for children under the age of 12 due to late hours.
Telescopes
The large telescopes will be available for viewing as soon as the sky is dark. Telescopes will remain open until every guest has had an opportunity to see through both the 36-inch Great Refractor and the 40-inch Nickel Telescope.
In order to view through the telescopes, guests will receive a numbered pass at the door. Guests with the lowest telescope numbers are admitted to the telescopes first - so we recommend getting to the observatory early! Please note: Due to historic construction of the telescope domes, the 36-inch Refractor and the 40-inch Nickel Telescope are not wheelchair accessible at this time.
Volunteer amateur astronomers also set up ground telescopes in the back parking so guests can view additional cosmic objects.
Gift Shop
Lick Observatory souvenirs and astronomy merchandise will be available for purchase between 7:30 to 11:00 p.m.
Refreshments
Snacks and beverages will be available near the Nickel Telescope. Vending machines and fountain water are also available.
Assistance
We strive to make your visit as complete and meaningful as possible. Please let us know if you will need special assistance (for example, if you will have difficulty climbing stairs), so we can make the necessary arrangements.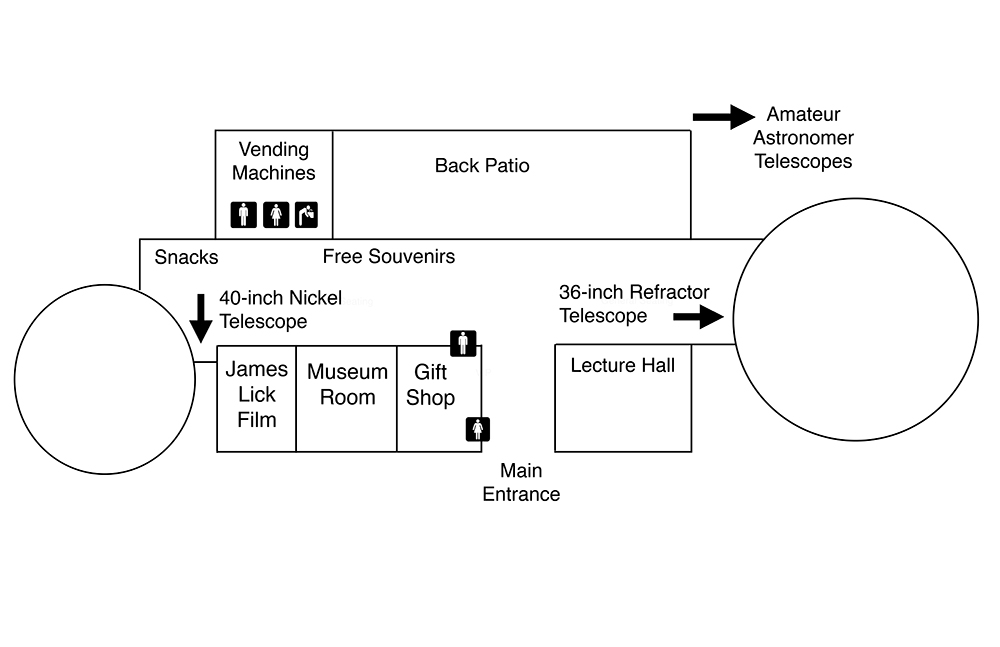 ---
Share Your Experience
If you attend an event make sure to tag us on Facebook, Instagram, Twitter!
Leave a review on Yelp here.