Lick Observatory presents
Hawaiian Slack Key and Steel Guitar by:
Ken Emerson
July 25, 2015
8:30 p.m.
---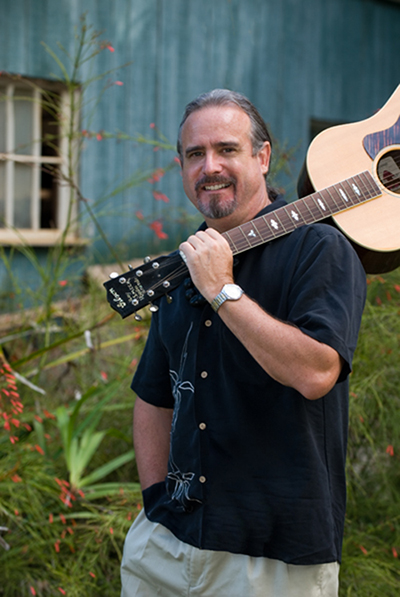 Ken Emerson is one of the world's most highly regarded traditional Hawaiian Slack Key and Steel Guitarists living today. His unique playing style reflects the Hawaiian guitar's grassroots origins of over a half century ago. For for nearly 40 years Emerson has helped lead the way in resurrecting the traditions of vintage Hawaiian music, tapping into classic Jazz and Blues influences along the way. In 2005 Ken won the prestigious Kahili Award for perpetuating Hawaiian culture, and was a featured artist and composer on the first Grammy Award winning 'Best Hawaiian Album' entitled 'Slack Key Guitar Vol 2' on Palm Records. Ken more recently played on Donald Fagen's 'Morph the Cat' Grammy winning album.
Ken plays both Hawaiian Slack Key and lap steel guitar and switches easily between them during his performance, laying his guitar on his lap and picking up a steel bar for an instrumental interlude. This requires a special finesse and light touch because the slack key guitar has lower action than a dedicated lap steel guitar.
He has developed his unique style through many musical genres. He has played his special blend of Blues/Jazz Hawaiian guitar for 40 years. Born into a musical family, Ken grew up with his fathers' extensive record collection of jazz, swing, Hawaiian and world music styles.
Living in the San Francisco Bay Area, he played the folk and blues songs of the early '60s, learning right hand fingerstyle techniques that led to his development as a fingerstyle picker. With the explosion of the San Francisco sound of the mid- later '60′s Ken also immersed himself into rock and electric blues styles. He was particularly drawn to bottleneck and slide guitar.
In 1968, Ken's family moved to Hawaii. Absorbing the Hawaiian culture, Ken began studying Hawaiian language and music emulating the players of the 1920′s and '30s era by listening to vintage Hawaiian 78 rpm records, zeroing in on the jazz and blues styles of Sol Ho'opi'i and Sol K. Bright. Soon Ken was playing alongside such legendary performers as Gabby Pahinui, Genoa Keawe, Raymond Kane, and Moe Keale.
Dividing his time between Kaua'i and San Francisco, Ken plays many Hawaiian venues and festivals and frequently tours the east coast of the US as well as Europe and Asia.
"Emerson writes pieces that update the classic sounds of Hawaiian Slack Key guitar. His unaccompanied songs have an open, relaxing quality to them, moving forward in a gentle rhythm.." - Jessy Terry, Rolling Stone Magazine
"Ken Emerson's style reflects the Hawaiian guitar's grassroots origins of a century ago. He taps into classic jazz and blues influences as well as Latin styles, completing a cultural circle from the first vaquero guitarists through jazz steel guitar virtuoso Sol Ho'opi'i and into new unexplored musical territories" - Maryanne Cord, Hanaola Records
---
Astronomy Lecture by:
Dr. Melissa Graham, UCB
"Cosmic Explosions: Unraveling the Enigma of Supernovae"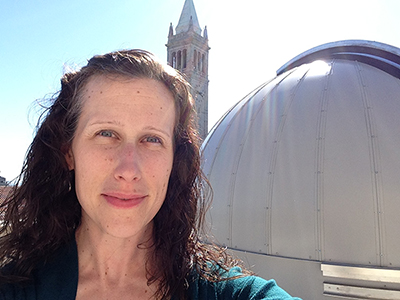 Dr. Melissa Graham is an astrophysicist at UC Berkeley who studies supernovae, stellar explosions so energetic they can produce the light of a billion suns. Supernovae exhibit a variety of characteristics, and most of them are in galaxies so far away that even when pre-supernova images exist, the original star cannot be resolved. It is important to understand how stars explode because supernovae release the heavy elements fused in the star's interior so they can form metal-enriched objects like planets, and also because supernovae are used as "standard candles" for cosmological studies of dark energy.
In this talk, Dr. Graham will describe the observational techniques and theoretical physics used to unravel the enigma of how different types of stars create the variety of supernovae we see, with a focus on research efforts currently underway at the University of California's astrophysical facilities: Lick Observatory on Mt. Hamilton and Keck Observatory on Mauna Kea. Dr. Graham completed a B.Sc.H at Queen's University (Canada) and a Ph.D. in Astrophysics at the University of Victoria (Canada) and spent three years in a joint postdoctoral fellowship at UC Santa Barbara and the Las Cumbres Observatory Global Telescope Network (LCOGT) before moving to a senior postdoctoral fellowship at UC Berkeley.
---
Ticket Information
General Admission: $40
Preferred Guest: $90
VIP: $150
See more ticket information here. Tickets for this event are now sold out.
Next Year, Get Tickets Early
If you'd like to purchase tickets as early as April 2016, join our Friends of Lick Observatory (FoLO) program. As a thank you for supporting the observatory, you'll get special access to purchase tickets before the general public. To be notified when tickets go on sale to the general public, join our mailing list.
---
Program Information
| | | |
| --- | --- | --- |
| 7:30 p.m. | Doors Open | Brief Telescope Visits |
| 8:30 p.m. | Concert, Main Hall | |
| 9:30 p.m. | Science Talk, Lecture Hall | Telescope Viewings |
| 10:30 p.m. | Science Talk (repeated), Lecture Hall | Telescope Viewings |
| 1:00 a.m. | Doors Close | |
Driving to Lick Observatory
Please allow a one-hour drive from San Jose. The rood is good, but windy. The event typically lasts between 4 and 6 hours; prepare to drive home late in the evening. There are no automative services or gas stations for 20 miles, so please plan ahead. See more information on driving directions and parking here.
Recommended Attire
Casual, comfortable clothing and walking shoes. A sweater or light coat is recommended.
Safety
Please be careful when walking around in the dark outside; bringing a flashlight is recommended. Children under age 8 are not allowed at this event, and it may be unsuitable for children under the age of 12 due to late hours.
Telescopes
The large telescopes will be available for viewing as soon as the sky is dark. Telescopes will remain open until every guest has had an opportunity to see through both the 36-inch Great Refractor and the 40-inch Nickel Telescope.
In order to view through the telescopes, guests will receive a numbered pass at the door. Guests with the lowest telescope numbers are admitted to the telescopes first - so we recommend getting to the observatory early! Please note: Due to historic construction of the telescope domes, the 36-inch Refractor and the 40-inch Nickel Telescope are not wheelchair accessible at this time.
Volunteer amateur astronomers also set up ground telescopes in the back parking so guests can view additional cosmic objects.
Gift Shop
Lick Observatory souvenirs and astronomy merchandise will be available for purchase between 7:30 to 11:00 p.m.
Refreshments
Snacks and beverages will be available near the Nickel Telescope. Vending machines and fountain water are also available.
Assistance
We strive to make your visit as complete and meaningful as possible. Please let us know if you will need special assistance (for example, if you will have difficulty climbing stairs), so we can make the necessary arrangements.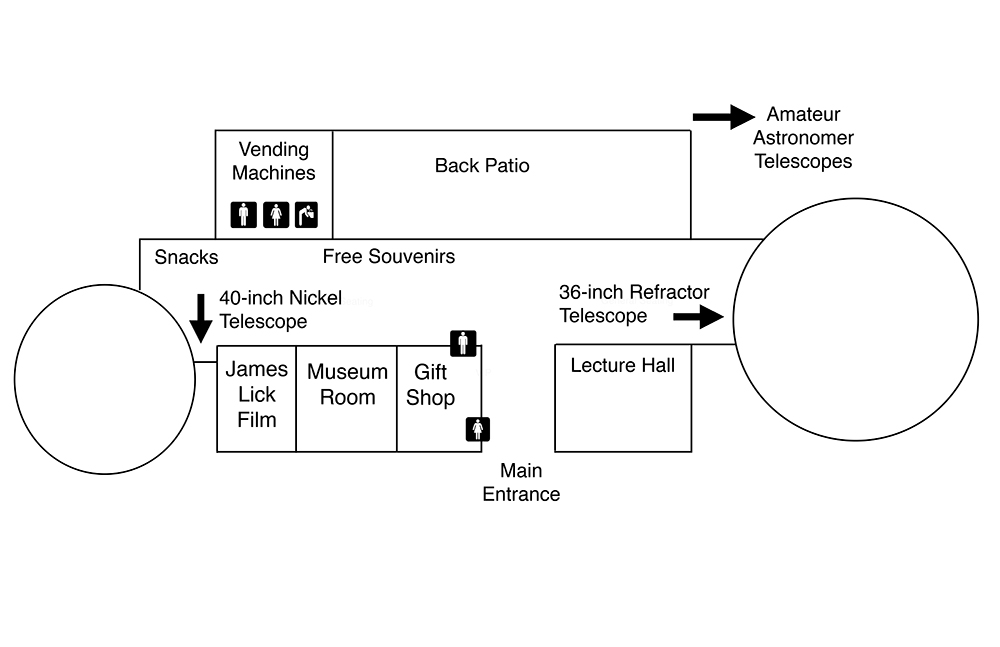 ---
Share Your Experience
If you attend an event make sure to tag us on Facebook, Instagram, Twitter!
Leave a review on Yelp here.