August 12, 2017
8:00 p.m.
Performer: Charged Particles
Astronomy Speaker: Katherine de Kleer, UC Berkeley
---
Concert Information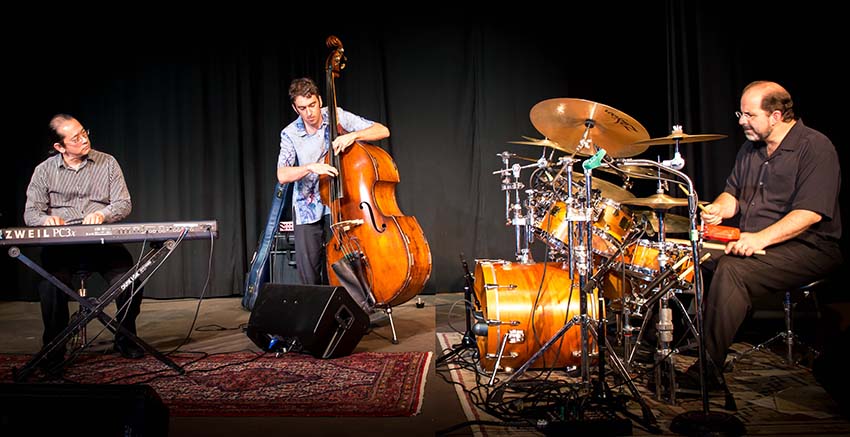 Charged Particles
The most exciting and creative music being made today crosses stylistic boundaries and blends diverse traditions to create engaging new sounds. Charged Particles features three of the country's virtuosos doing just that in the electric jazz arena. Murray Low is a keyboard wizard with dazzling Latin-jazz technique and imaginative improvisational skills. Aaron Germain is an inventive and sophisticated acoustic and electric bassist. Along with fiery drummer Jon Krosnick, these players are making some of the most electrifying jazz in the country today.The trio's repertoire blends jazz with elements of Latin music,funk, classical music, and other genres. The group's original compositions are mixtures of complex orchestration and elaborate improvised solos. The band brings a similar approach to playing arrangements of tunes by other jazz artists and traditional jazz standards by the composers of America's most popular songs from decades ago, each played with a new twist. All of the trio's music has a distinctly acoustic sensibility, despite the members playing both electric and acoustic instruments. The group's small size allows for sensitivity and spontaneity among the players, making each performance an enchanting improvisational exploration. The band's energy level is always high, even when they are cooking at a volume no louder than a whisper, or floating through the melody of a romantic ballad. Each piece they play brims with the fun the players have together and with the admiration they have for each other. Charged Particles are a treat to hear! Read more ...
---
Lecture Information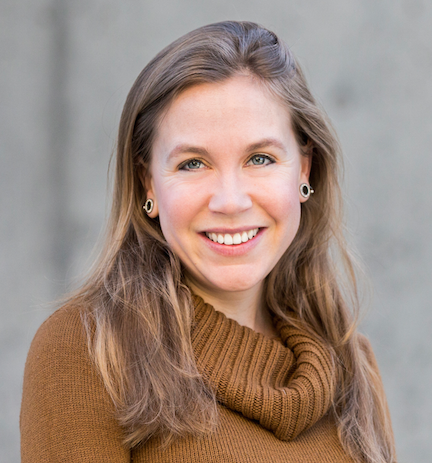 Katherine de Kleer
Katherine de Kleer is a NSF Graduate Research Fellow in the Astronomy Department at the University of California, Berkeley. She is interested in dynamic planetary processes and how they relate to the surface environments, atmospheres, and thermochemical histories of planets and satellites. Her research focuses on characterizing these processes through the application of powerful statistical methods to boundary-pushing telescope observations at optical through radio wavelengths. Her work to date has focused on topics including the atmospheric composition and global circulation of Uranus, Neptune, and Jupiter; the volcanism, atmosphere, and tidal heating of Io; and the sub-surface material properties of Europa, Callisto, and Ganymede.
Research Interests include: Dynamic processes in the solar system: atmospheric circulation and weather; geological activity; neutral and plasma environments. Planetary atmospheres: ice giant atmospheres; radiative transfer modeling; Io's volcanic atmosphere. Planetary & satellite surfaces: composition and material properties, as a tracer of past evolution and ongoing exogenic and endogenic processes. Tidal heating as it relates to Io's volcanism and the habitability of icy moons and exoplanets Volcanism: on Io and Earth; as a source of crustal and atmospheric material in the early solar system; on magma exoplanets Astrobiology: Europa, Enceladus, and detection of geological and biological signatures on extrasolar planets.
---
Ticket Information
Join Friends of Lick Observatory (FoLO) and Get Tickets Early
If you'd like to purchase tickets as early as noon on April 5th, 2017, join our Friends of Lick Observatory (FoLO) program. As a thank you for supporting the observatory, you'll get special access to purchase tickets before they go on sale for the general public on April 12th at noon at ucsctickets.com.
---
Ticket Packages
General Admission: $45

Ticket includes concert seating, astronomy lecture, view through the Great Refractor telescope, view through the Nickel Telescope and souvenir wine glass or mug.
Preferred Guest: $90
Ticket includes preferred concert seating, astronomy lecture, preferred viewing through the Great Refractor telescope, preferred viewing through the Nickel Telescope, souvenir wine glass or mug, 20% discount at the gift shop.
VIP: $210
Ticket includes private group tour of the Shane Telescope before the concert, catered buffet dinner with wine in our historic Dining Hall, front center concert seating, astronomy lecture, priority viewing through the 36-inch Great Refractor, priority viewing through the 40-inch Nickel Telescope, souvenir wine glass or mug and 20% Discount at our gift shop.
---
More Ticket Information
Due to the historic construction of the telescope domes and safety concerns, the 36-inch Great Refractor Telescope and the 40-inch Nickel Telescope are not wheelchair accessible at this time. Those who have difficulty navigating stairs may also find the telescopes inaccessible. Funds are being raised through the Friends of Lick Observatory to repair the elevating floor of the Lick 36-inch telescope to re-enable handicap access.
Tickets are non-refundable. Please be advised that unpredictable weather patterns may restrict telecope viewings, though lectures, concerts and other activities will still take place.
Due to safety regulations, children must be at least 8 years of age for admission and accompanied by an adult. Due to late program hours, the program may be difficult for children under 12.
---
Program Information
| | | |
| --- | --- | --- |
| 7:00 p.m. | Doors Open | Brief Telescope Visits |
| 8:00 p.m. | Concert, Main Hall | |
| 9:00 p.m. | Science Talk, Lecture Hall | Telescope Viewings |
| 10:00 p.m. | Science Talk (repeated), Lecture Hall | Telescope Viewings |
| 12:30 a.m. | Doors Close | |
Driving to Lick Observatory
Please allow a one-hour drive from San Jose. The rood is good, but windy. The event typically lasts between 4 and 6 hours; prepare to drive home late in the evening. There are no automative services or gas stations for 20 miles, so please plan ahead. See more information on driving directions and parking here.

Recommended Attire
Casual, comfortable clothing and walking shoes. A sweater or light coat is recommended.
Safety
Please be careful when walking around in the dark outside; bringing a flashlight is recommended. Children under age 8 are not allowed at this event, and it may be unsuitable for children under the age of 12 due to late hours.
Telescopes
The large telescopes will be available for viewing as soon as the sky is dark. Telescopes will remain open until every guest has had an opportunity to see through both the 36-inch Great Refractor and the 40-inch Nickel Telescope.
In order to view through the telescopes, guests will receive a numbered pass at the door. Guests with the lowest telescope numbers are admitted to the telescopes first - so we recommend getting to the observatory early! Please note: Due to historic construction of the telescope domes, the 36-inch Refractor and the 40-inch Nickel Telescope are not wheelchair accessible at this time.
Volunteer amateur astronomers also set up ground telescopes in the back parking so guests can view additional cosmic objects.
Gift Shop
Lick Observatory souvenirs and astronomy merchandise will be available for purchase between 7:00 to 11:00 p.m. You can also visit our Gift Shop online 24/7.
Refreshments
Snacks and beverages will be available near the Nickel Telescope. Vending machines and fountain water are also available.
Assistance
We strive to make your visit as complete and meaningful as possible. Please let us know if you will need special assistance (for example, if you will have difficulty climbing stairs), so we can make the necessary arrangements.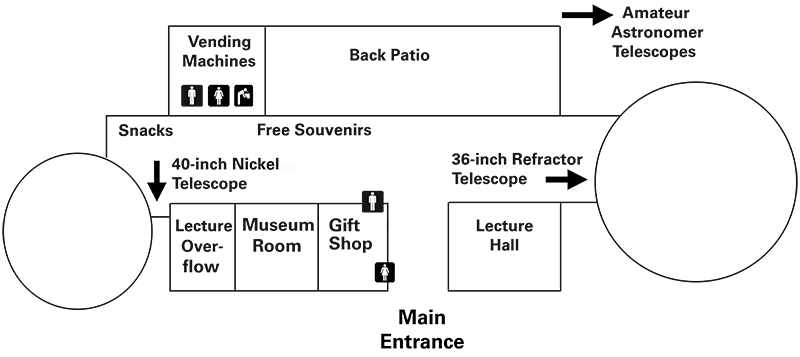 ---
Share Your Experience
If you attend an event make sure to tag us on Facebook, Instagram, Twitter!
Leave a review on Yelp here.