July 15, 2017
8:30 p.m.
Performer: Tingstad and Rumbel
Astronomy Speaker: Prof. Sandra M. Faber
---
Concert Information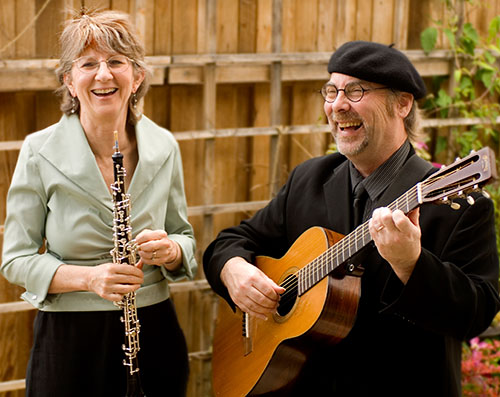 Tingstad and Rumbel

Grammy Award winners and top selling contemporary instrumentalists, Eric Tingstad and Nancy Rumbel have performed and recorded together for over 28 years. With 19 albums to their credit, they have created and remained at the core of a distinctive and essential style. Eric Tingstad is a composer who happens to play guitar. Nancy Rumbel is one of the world's premiere oboe and English horn players and a virtuoso of the double ocarina. Eric and Nancy began their collaboration in1985 and the road to success has been paved with critical acclaim. Their debut album, The Gift, an acoustic Christmas collection, quickly became a holiday classic. In the Garden raked in national reviews from The New York Times, The Washington Post as well as Billboard. Both Pastorale and Paradise debuted at number one on the Adult Contemporary charts. In 1998 their double album, American Acoustic was honored as "Acoustic Instrumental Album of the Year" and spent 10 weeks on the Billboard radio charts. A Carnegie Hall appearance in 2000. And in 2003 they received a Grammy Award for Acoustic Garden. The youngest of three sisters, Nancy grew up in San Antonio's hotbed of musical culture with her independently minded, music loving parents and continued her musical education at Northwestern University. It was during Nancy's college years that she was introduced to new influences, styles and intrigued by ethnomusicology which led to her joining the Paul Winter Consort. Meanwhile, Eric, the eldest of three brothers, grew up in Seattle and attended Western Washington University where he was trained in the Segovian classical guitar tradition. But he's also a product of influences like Led Zeplin, King Crimson and time spent pounding out rock and roll. Not to mention the family "Hi-fi" with Hawaiian slack key guitar, Ravi Shanker, The Kingston Trio and Martin Denny. By a vote of his peers, Tingstad was honored in October 2006 with the Coyote Award from Arts Northwest commemorating his leadership, visibility, and contributions to the constant change in the arena of live performance. In 2007 Eric received another GRAMMY nomination for his recording "Southwest." In early 2012 Tingstad released "Badlands." And in 2015 his CD "Mississippi" was #1 at ZMR radio and nominated for album of the year.

---
Lecture Information:
"The Art and Science of Astro-Imaging: Bringing the Universe Dramatically Closer"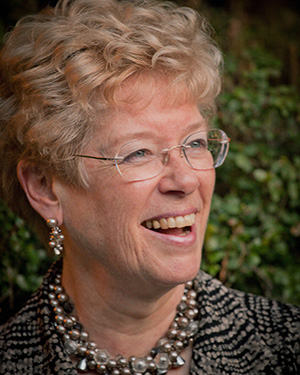 Prof. Sandra M. Faber
Sandra Faber is a University Professor at the University of California, Santa Cruz, and a staff member of UCO/Lick Observatory. She is an observational astronomer with research interests in cosmology and galaxy formation. Some of her major discoveries include the first structural scaling law for galaxies (called the Faber-Jackson relation), large-scale flow perturbations in the expansion of the Universe caused by superclusters of galaxies, and black holes at the centers of galaxies. In 1984, she and three colleagues presented the first detailed treatment of galaxy formation based on "cold dark matter," which has since become the standard paradigm for galaxy and cluster formation in the Universe. Faber was one of three astronomers who diagnosed the optical flaw in the Hubble Space Telescope, and she played a major role in its repair. She established the scientific case for the twin Keck 10 m telescopes, which inspired a subsequent wave of giant optical telescope building all over the world. From 1994-2005 she was Principal Investigator of the DEIMOS spectrograph, a large optical multi-object spectrograph for the Keck II telescope that is the most powerful instrument of its kind in the world. She and colleagues used DEIMOS to conduct the DEEP redshift survey of the distant Universe, which collected spectra of 50,000 distant galaxies and exploited the immense power of Keck to see and study galaxy formation 10 billion years back in time. She now co-leads the CANDELS project, the largest project in the history of the Hubble Space Telescope, to extend our view of galaxy formation back nearly to the Big Bang. She has co-authored over 300 scientific papers, and her work has been cited over 46,000 times. Faber received her BA degree in Physics from Swarthmore College and her PhD in Astronomy from Harvard. She is a member of the U.S. National Academy of Sciences, the American Academy of Arts and Sciences, and the American Philosophical Society and is a Fellow of the Royal Astronomical Society. Among her many awards, she received the National Medal of Science from President Obama in February 2013. Faber will draw on her experience in astronomical optics and telescopes to illustrate the art and science of astronomical imaging, how it is yielding ever sharper images, and drawing the cosmos ever closer. Her talk will feature beautiful images and videos from Hubble, from the Keck telescopes, and expected fabulous images from the Thirty-Meter Telescope, a project of the University of California, Caltech, and four other countries.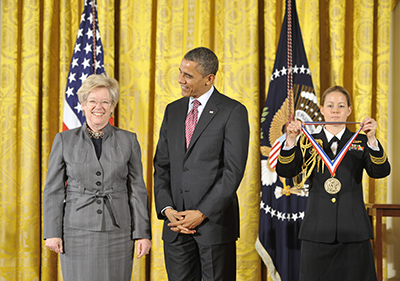 National Medal of Science Ceremony at the White House on February 1, 2013. [United States Government Work]
---
Ticket Information
Join Friends of Lick Observatory (FoLO) and Get Tickets Early
If you'd like to purchase tickets as early as noon on April 5th, 2017, join our Friends of Lick Observatory (FoLO) program. As a thank you for supporting the observatory, you'll get special access to purchase tickets before they go on sale for the general public on April 12th at noon at ucsctickets.com.
---
Ticket Packages
General Admission: $45

Ticket includes concert seating, astronomy lecture, view through the Great Refractor telescope, view through the Nickel Telescope and souvenir wine glass or mug.
Preferred Guest: $90
Ticket includes preferred concert seating, astronomy lecture, preferred viewing through the Great Refractor telescope, preferred viewing through the Nickel Telescope, souvenir wine glass or mug, 20% discount at the gift shop.
VIP: $210
Ticket includes private group tour of the Shane Telescope before the concert, catered buffet dinner with wine in our historic Dining Hall, front center concert seating, astronomy lecture, priority viewing through the 36-inch Great Refractor, priority viewing through the 40-inch Nickel Telescope, souvenir wine glass or mug and 20% Discount at our gift shop.
---
More Ticket Information
Due to the historic construction of the telescope domes and safety concerns, the 36-inch Great Refractor Telescope and the 40-inch Nickel Telescope are not wheelchair accessible at this time. Those who have difficulty navigating stairs may also find the telescopes inaccessible. Funds are being raised through the Friends of Lick Observatory to repair the elevating floor of the Lick 36-inch telescope to re-enable handicap access.
Tickets are non-refundable. Please be advised that unpredictable weather patterns may restrict telecope viewings, though lectures, concerts and other activities will still take place.
Due to safety regulations, children must be at least 8 years of age for admission and accompanied by an adult. Due to late program hours, the program may be difficult for children under 12.
---
Program Information
| | | |
| --- | --- | --- |
| 7:30 p.m. | Doors Open | Brief Telescope Visits |
| 8:30 p.m. | Concert, Main Hall | |
| 9:30 p.m. | Science Talk, Lecture Hall | Telescope Viewings |
| 10:30 p.m. | Science Talk (repeated), Lecture Hall | Telescope Viewings |
| 1:00 a.m. | Doors Close | |
Driving to Lick Observatory
Please allow a one-hour drive from San Jose. The road is good, but windy. The event typically lasts between 4 and 6 hours; prepare to drive home late in the evening. There are no automative services or gas stations for 20 miles, so please plan ahead. See more information on driving directions and parking here.

Recommended Attire
Casual, comfortable clothing and walking shoes. A sweater or light coat is recommended.
Safety
Please be careful when walking around in the dark outside; bringing a flashlight is recommended. Children under age 8 are not allowed at this event, and it may be unsuitable for children under the age of 12 due to late hours.
Telescopes
The large telescopes will be available for viewing as soon as the sky is dark. Telescopes will remain open until every guest has had an opportunity to see through both the 36-inch Great Refractor and the 40-inch Nickel Telescope.
In order to view through the telescopes, guests will receive a numbered pass at the door. Guests with the lowest telescope numbers are admitted to the telescopes first - so we recommend getting to the observatory early! Please note: Due to historic construction of the telescope domes, the 36-inch Refractor and the 40-inch Nickel Telescope are not wheelchair accessible at this time.
Volunteer amateur astronomers also set up ground telescopes in the back parking so guests can view additional cosmic objects.
Gift Shop
Lick Observatory souvenirs and astronomy merchandise will be available for purchase between 7:30 to 11:00 p.m. You can also visit our Gift Shop online 24/7.
Refreshments
Snacks and beverages will be available near the Nickel Telescope. Vending machines and fountain water are also available.
Assistance
We strive to make your visit as complete and meaningful as possible. Please let us know if you will need special assistance (for example, if you will have difficulty climbing stairs), so we can make the necessary arrangements.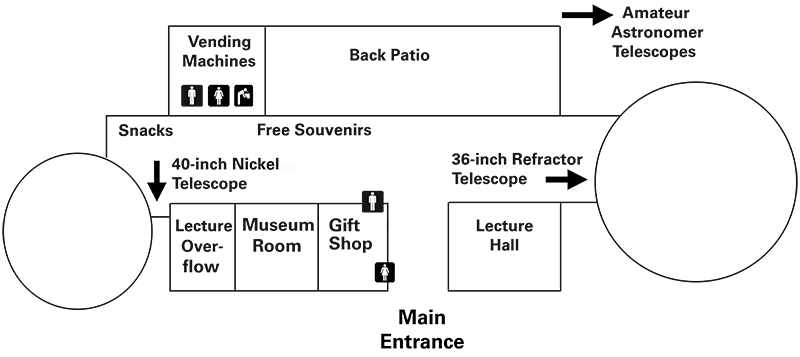 ---
Share Your Experience
If you attend an event make sure to tag us on Facebook, Instagram, Twitter!
Leave a review on Yelp here.