August 26, 2017
8:00 p.m.
Performers: Virginia Kron & Kim Robertson
Astronomy Speaker: Prof. Richard G. Kron
---
Concert Information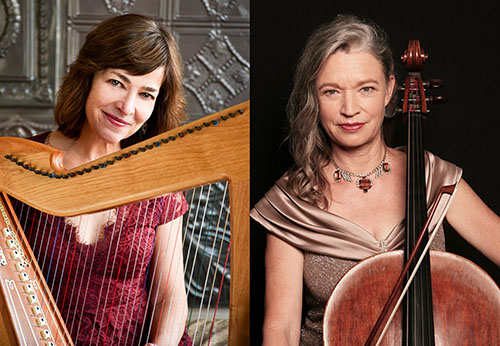 Kim Robertson | Celtic Harp
"Kim Robertson is a renowned performer, arranger and recording artist who has stretched the boundaries of the harp for a new generation of performers and audiences. As a pioneer in the American folk harp movement, she combines an improvisational spirit with a passionate sense of tradition, bringing a contemporary touch to a centuries-old instrument. Born in Wisconsin, she is classically trained on piano and orchestral harp. In the mid-70's, Kim's discovery of the Celtic harp grew into a profound love for the instrument, setting her upon the path of exploration for which she is now widely known. Kim has traveled with her harp from concert halls to grass roots folk clubs, from luxury cruise ships to remote mountaintops; she has performed concerts by candlelight, delivered singing telegrams and played herself on an episode of "Beverly Hills 90210". She regularly tours the USA, Canada and Europe, and is still recognized as one of the most popular folk harpists performing today. Her work encompasses numerous recording projects, published harp arrangements, and an international itinerary of workshops and retreats. www.kimrobertson.net
Virginia Kron | Cello
Cellist Virginia Kron is happy to arrive at the summit of Mt. Hamilton, where she grew up until the age of ten with her astronomer parents and four siblings, including tonight's lecturer, Richard Kron. She is also delighted to join harpist Kim Robertson in concert again. The two have performed together since 1989, coming together every few years like a returning comet. "Accomplished cellist Virginia Kron ...a cellist of no small talent, has done her best to keep alive the music of our time," said the Los Angeles Times. Critics also praised her for her "warm and supple cello tone", "great expression", "intensity, subtlety and selfless musicianship" and "world class sound". Kron was selected for in depth documentation and filmed interview by Ventura County's Focus on the Masters. As a chamber musician Ms. Kron has performed on many series and concerts throughout the southwest and the length of California. She has been a regular contributor to the Current Sounds Consortium and Sundays at Four, a live Los Angeles radio broadcast. Since 1978 Kron has spent most of her summers at music festivals including Aspen, the Music Academy of the West, Tanglewood, Rome, Monterey, Bakersfield, the Ojai Music Festival, the Mozart Festival, Bear Valley and 27 years at the Cabrillo Festival of Contemporary Music in Santa Cruz under the direction of Marin Alsop. The Cabrillo Festival inspired Virginia to work with living composers, and composers have written a concerto, three sonatas and numerous short pieces and arrangements for her. Her concerto performances include the premier of John Biggs' Concerto for Cello and Chamber Orchestra with New West Symphony. She recorded it in Prague with the Czech National Symphony. She has also recorded for Celtic harpist Kim Robertson, pianist David Henderson and recorded her well reviewed original children's fairy tale The Crystal Harp. Kron received her Bachelor's degree in cello performance from the UW-Madison, and her Master's, with a prize in performance, from USC. She is a member of the clarinet trio Singer Chamber Players with clarinetist David Singer and pianist Daniel Newman Lessler. VirginiaKron.com
---
Lecture Information "Our Changing View of the Milky Way"

Prof. Richard G. Kron
Professor Kron is Assistant Chair for Academic Affairs of the Department of Astronomy and Astrophysics at the University of Chicago. He was director of the Yerkes Observatory 1989 - 2001. His research interest includes the evolution of stellar populations in galaxies (history of the star-formation rate), the cosmic evolution of quasars, and generally the state of things at high redshift. He specializes in studies of distant galaxies and quasars using survey techniques. Please read more about Richard Kron on the University of Chicago's website of the Department of Astronomy and Astrophysics here.
---
Ticket Information
Join Friends of Lick Observatory (FoLO) and Get Tickets Early
If you'd like to purchase tickets as early as noon on April 5th, 2017, join our Friends of Lick Observatory (FoLO) program. As a thank you for supporting the observatory, you'll get special access to purchase tickets before they go on sale for the general public on April 12th at noon at ucsctickets.com.
---
Ticket Packages
General Admission: $45

Ticket includes concert seating, astronomy lecture, view through the Great Refractor telescope, view through the Nickel Telescope and souvenir wine glass or mug.
Preferred Guest: $90
Ticket includes preferred concert seating, astronomy lecture, preferred viewing through the Great Refractor telescope, preferred viewing through the Nickel Telescope, souvenir wine glass or mug, 20% discount at the gift shop.
VIP: $210
Ticket includes private group tour of the Shane Telescope before the concert, catered buffet dinner with wine in our historic Dining Hall, front center concert seating, astronomy lecture, priority viewing through the 36-inch Great Refractor, priority viewing through the 40-inch Nickel Telescope, souvenir wine glass or mug and 20% Discount at our gift shop.
---
More Ticket Information
Due to the historic construction of the telescope domes and safety concerns, the 36-inch Great Refractor Telescope and the 40-inch Nickel Telescope are not wheelchair accessible at this time. Those who have difficulty navigating stairs may also find the telescopes inaccessible. Funds are being raised through the Friends of Lick Observatory to repair the elevating floor of the Lick 36-inch telescope to re-enable handicap access.
Tickets are non-refundable. Please be advised that unpredictable weather patterns may restrict telecope viewings, though lectures, concerts and other activities will still take place.
Due to safety regulations, children must be at least 8 years of age for admission and accompanied by an adult. Due to late program hours, the program may be difficult for children under 12.
---
Program Information
| | | |
| --- | --- | --- |
| 7:00 p.m. | Doors Open | Brief Telescope Visits |
| 8:00 p.m. | Concert, Main Hall | |
| 9:00 p.m. | Science Talk, Lecture Hall | Telescope Viewings |
| 10:00 p.m. | Science Talk (repeated), Lecture Hall | Telescope Viewings |
| 12:30 a.m. | Doors Close | |
Driving to Lick Observatory
Please allow a one-hour drive from San Jose. The road is good, but windy. The event typically lasts between 4 and 6 hours; prepare to drive home late in the evening. There are no automative services or gas stations for 20 miles, so please plan ahead. See more information on driving directions and parking here.

Recommended Attire
Casual, comfortable clothing and walking shoes. A sweater or light coat is recommended.
Safety
Please be careful when walking around in the dark outside; bringing a flashlight is recommended. Children under age 8 are not allowed at this event, and it may be unsuitable for children under the age of 12 due to late hours.
Telescopes
The large telescopes will be available for viewing as soon as the sky is dark. Telescopes will remain open until every guest has had an opportunity to see through both the 36-inch Great Refractor and the 40-inch Nickel Telescope.
In order to view through the telescopes, guests will receive a numbered pass at the door. Guests with the lowest telescope numbers are admitted to the telescopes first - so we recommend getting to the observatory early! Please note: Due to historic construction of the telescope domes, the 36-inch Refractor and the 40-inch Nickel Telescope are not wheelchair accessible at this time.
Volunteer amateur astronomers also set up ground telescopes in the back parking so guests can view additional cosmic objects.
Gift Shop
Lick Observatory souvenirs and astronomy merchandise will be available for purchase between 7:00 to 11:00 p.m. You can also visit our Gift Shop online 24/7.
Refreshments
Snacks and beverages will be available near the Nickel Telescope. Vending machines and fountain water are also available.
Assistance
We strive to make your visit as complete and meaningful as possible. Please let us know if you will need special assistance (for example, if you will have difficulty climbing stairs), so we can make the necessary arrangements.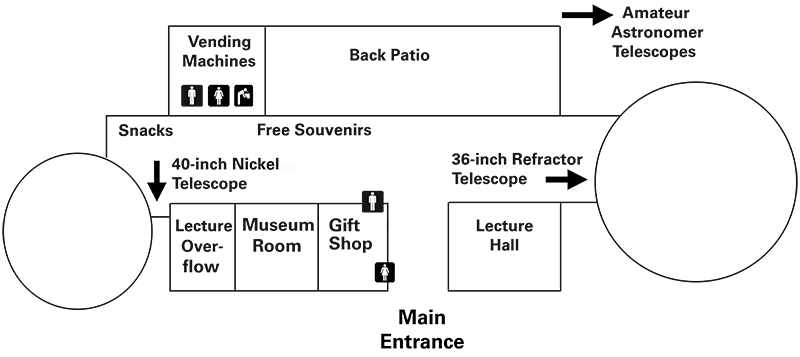 ---
Share Your Experience
If you attend an event make sure to tag us on Facebook, Instagram, Twitter!
Leave a review on Yelp here.